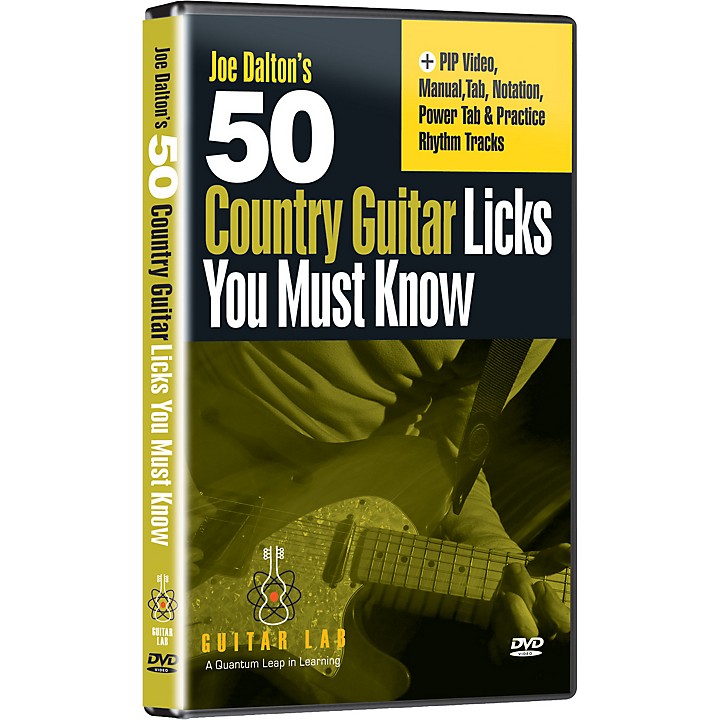 Country twang ace Joe Dalton presents 50 hot country guitar licks and a slew of country-style playing techniques.
The Guitar Lab DVD series employs a hands-on approach that allows students to play their way through the curriculum, rather than struggle through tedious theory and exercises. Features PIP (picture-in-picture) video, standard notation, guitar tab, power tab files, practice rhythm tracks, and bonus material.

Country and Nashville twang ace Joe Dalton draws from years of experience while in-session and on-stage to present these 50 hot country guitar licks you must know.

Dalton hand-picked a wide range of essential techniques and cornerstone licks including: pedal steel emulation, hybrid right-hand and chicken pickin' techniques, acoustic riffs, alternate picking, multiple string-bends and double-stops. You'll learn bluegrass riffs, major pentatonic runs with blues notes, resonator guitar riffs, banjo rolls, string slapping, and Travis picking. Joe also shares insightful, advanced soloing concepts such as voice leading to help you build solos and develop your own sound.

Once you have these 50 licks under your fingers, you'll be able to handle any country, alt-country, twang, roots-rock, or country-rock solo situation.

Guitar Lab's innovative learning systems employ a hands-on approach where students play their way through the curriculum using learning tools such as PIP video, practice rhythm tracks, and interactive tab and notation, which allows the student to play along with the tab and notation, at any tempo, without a change in pitch.
Specifications
System requirements:
Guitar Lab DVDs will play on most consumer DVD players (computer not required)

Features
Special features:
Picture-in-picture video instruction
Guitar tab and notation
Power tab
Practice rhythm tracks
Printed manual