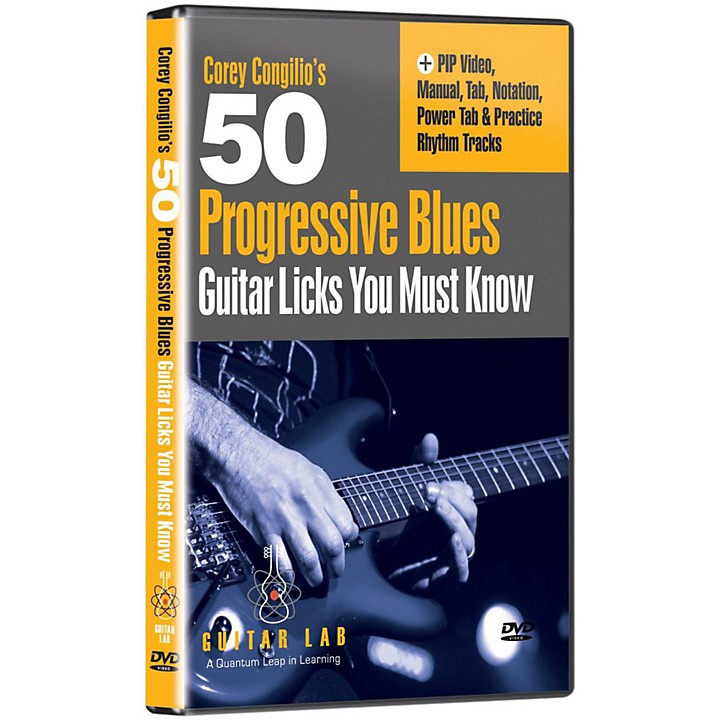 Take your progressive blues skills to a new level with help from this DVD guide.
Like all Guitar Lab DVD series titles, 50 Progressive Blues Guitar Licks You Must Know employs a hands-on approach allowing students to play their way through the curriculum, rather than struggle through tedious theory and exercises. Features PIP (Picture in Picture) video, manual, standard notation, tab, power tab files, practice rhythm tracks and bonus material.

Hosted by Corey Congilio, this fun DVD will show you how to apply techniques and melodic devices like hybrid picking, hip hammers and pull-offs, sixths and thirds, chromatics, diminished runs, open-string and intervallic moves, major-minor pentatonic phrases, octaves, double and triple-stops, repetitive phrases, pre-bends, half and full bends, intervallic leaps, muting, scratches, rakes, and many more of the essential tricks of the Progressive Blues trade.

Run time: 221 minutes.

Features
Hosted by Corey Congilio
Chapters
:
Text Lesson Guide
Standard Notation
Guitar Tab
Power Tab Files
Power Tab Software
Practice Rhythm Tracks
Bonus Material
Secure PIN enclosed for quick and easy download of learning tools.
Running Time: 221 Minutes