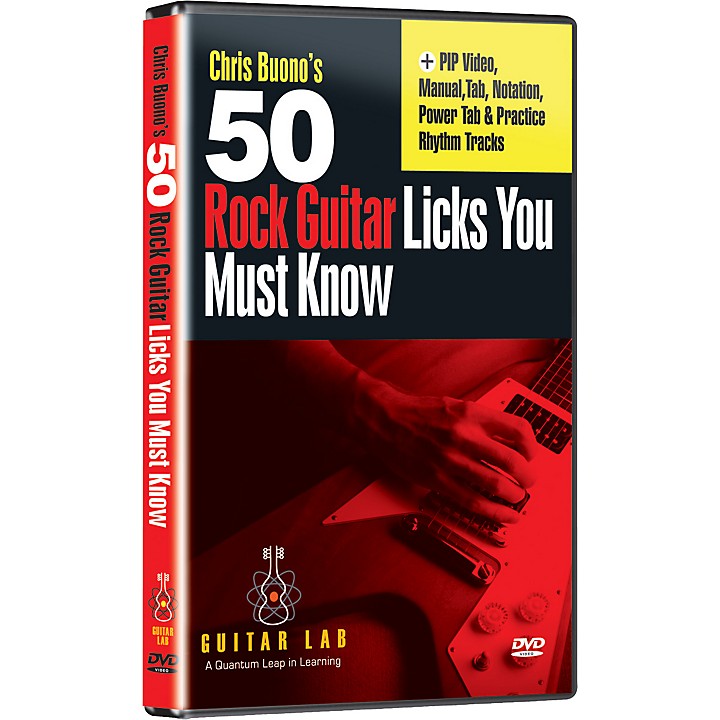 An essential collection of 50 rock guitar licks for you to master on guitar.
In the 50 Rock Guitar Licks You Must Know DVD top rock educator Chris Buono presents an essential guitar instruction video covering everything from intervals and sweep picking to classical phrases and whammy-bar workouts.

Get a grip on these 50 licks and you'll have the insight and chops to tear it up within any rock style, from blues to metal, classic to contemporary, and everything in between.

Buono breaks down advanced concepts into versatile, easy-to-apply riffs that you can use in almost any rock setting. You'll learn note targeting, pinch harmonics control, moving between major and minor tonalities, soloing in the upper registers, along with 3-note-per-string concepts, tremolo picking, open position riffs, sweep picking, hybrid picking, double stops, and how to incorporate exotic scales as well as style-specific chops in practically any rock genre.

The eMedia Guitar Lab DVD series uses a hands-on approach so you'll play your way through the curriculum, rather than struggle through tedious theory and exercises. The instructional DVD includes PIP (picture-in-picture) video, standard notation, guitar tab, power tab files, practice rhythm tracks, and bonus material to get your rock guitar playing up to speed. With Guitar Lab's interactive tab and notation, you can practice along with the tab and notation at any tempo, without a change in pitch.
Specifications
System requirements:
Guitar Lab DVDs will play on most consumer DVD players (computer not required).

Features
Special features:
Picture-in-picture video instruction
Guitar tab and notation
Power tab
Practice rhythm tracks
Printed manual