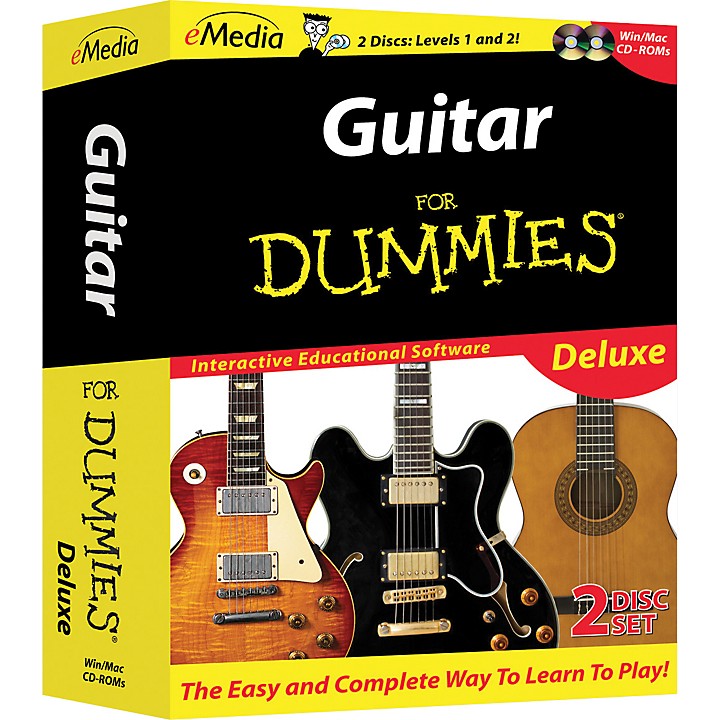 A proven method with over 170 lessons.
eMedia's Guitar For Dummies Deluxe 2-CD-ROM Set features eMedia's new interactive Instant feedback technology, which listens through your computer's microphone as you play and highlights correctly played melodies, making learning to read music easy and fun!

Guitar For Dummies Deluxe is a 2 CD-ROM set including Guitar For Dummies and Guitar For Dummies Level 2.

The eMedia Guitar for Dummies CD-ROM makes learning quick and easy with over 80 step-by-step lessons (approximately one-half of the eMedia Guitar Method curriculum).

Songs and exercises are accompanied by full-motion videos, live recorded audio and variable-speed MIDI tracks. The easy-to-follow lessons range from basics, like stringing the guitar, to playing chords and strumming techniques.

Professional guitar instructor Kevin Garry, Ph.D., guides you with video demonstrations of techniques.

Also includes our Automatic Tuner, Metronome, Chord Dictionary and Recorder. The excellent teaching and valuable accessories offer exceptional value and will have you playing songs in no time!

Guitar For Dummies Level 2 is the follow up to the best-selling Guitar For Dummies CD-ROM and features over 90 new lessons covering reading tablature and standard notation, playing melodies, fingerpicking and more.

New Resizable User Interface

eMedia made the content window on Guitar For Dummies adjustable in size, and it even maximizes to your fill your monitor, so the guitar lessons are easier to read and follow

Animated Fretboard (with six different skins)
eMedia Guitar for Dummies displays fingering positions as the music plays. It allows you to see exactly how to play the song on a guitar fretboard as you hear the music. Music tracking highlights the notes being played on the screen, making it simple to follow along. It includes options for both right- and left-handed views. Fretboard skins are designed in the style of a Rickenbacker, Strat, Gretsch, '59 Les Paul, and more.

Audio Tracking
Highlighting of the music and lyrics as they're heard makes it easy to follow along on guitar.

Variable-Speed MIDI
Slows down the audio to any tempo, while the animated fretboard shows song fingering as the music plays. Learn at the pace best suited to your skill level.

Automatic Tuner
Tune your guitar quickly and easily with the automatic tuner. A precision gauge allows you to play into your computer's microphone and immediately get feedback to see if you're too high or too low. Full audio reference notes also provided.

Digital Metronome
This feature allows you to set your own tempo and work on your picking speed, rhythm, and timing. Provides both visual cue and/or audio tick. It gives you a full range of tempi, from largo to presto.

Digital Recorder
Record and play yourself back. This feature of the Guitar For Dummies instructional CD allows you to compare your recordings with the instructor's version, fine-tune your skills, and store musical ideas for later review or for writing your own songs.



System Requirements
Windows:

Windows XP / Vista / 7 / 8 / 10


Macintosh:

macOS 10.5 to 10.14

(Internet connection recommended for online activation.)

Attention Mac users: As you may be aware, Apple has decided to discontinue support for 32-bit applications starting in macOS 10.15 (Catalina). If you wish to use eMedia software which requires 32-bit support, do not upgrade past macOS 10.14 (Mojave). eMedia is working on a new version that will support Catalina and future versions of macOS, but they do not yet have a release date for it.

For more information regarding macOS 10.15, please visit: https://support.emediamusic.com/kb/faq.php?id=88
Features
Over 170 step-by-step lessons
New resizable user interface
Animated fretboard (with six different skins)
High-quality videos
Audio tracking
Variable-speed MIDI
Automatic tuner
Chord dictionary
Digital metronome
Digital recorder