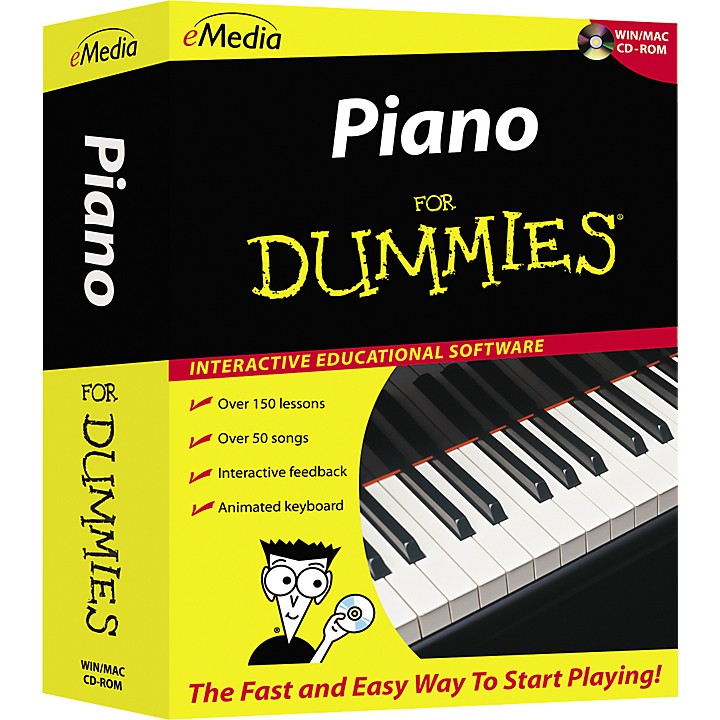 Over 150 step-by-step lessons with full-motion videos to help you become a master of the keys.
The eMedia Piano For Dummies CD-ROM offers everything you need to learn how to play keyboards. Learn from over 150 step-by-step lessons with full-motion video demonstrations-approximately half of the eMedia Piano and Keyboard Method curriculum.

Your piano teacher on the Piano For Dummies CD is Irma Irene Justicia, M.A., who taught at the renowned Juilliard School of Music. Learn to read music notation with the help of the Animated Keyboard. Songs include recorded audio, variable-speed MIDI keyboard tracks, and colorful MIDI accompaniments. When used with an electronic MIDI keyboard, you can get specific feedback on mistakes in your playing. The instructional CD also includes a digital metronome and recorder application.

eMedia Piano For Dummies features music from classics to popular modern hits to make learning fun. Enhanced multitrack audio and colorful MIDI accompaniments enhance the learning experience. You'll learn keyboard or piano with over 50 classical, pop, and folk songs such as George M. Cohan's "Give My Regards To Broadway," Ludwig van Beethoven's "Ode to Joy," and Billy Joel's "Piano Man."

157 Step-by-Step Lessons
Arranged in 6 chapters, the lessons in Piano For Dummies cover the basics such as hand position, rhythm, and playing on black keys. Lessons then move on to more advanced concepts such as music notation, sight reading, intervals, melodies and harmonies. On-screen teacher Irma Irene Justicia, M.A., provides clear and friendly instruction.

Large, Easy-to-Use Interface
The screens in the Piano For Dummies instructional CD-ROM are easy to read and use. Piano fingerings help teach you the correct fingering for each note. Guitar chords are included, so a friend who is learning guitar can play along with you. Piano fingerings and guitar chords can be toggled on or off for any screen.

Animated Keyboard
The Animated Keyboard displays color-coded fingerings as the music plays. It shows you exactly how to play the song on a keyboard as you hear the music. Music tracking highlights the notes being played on the screen, making it simple to follow along.

High-Quality Videos
Professional piano instructor Irma Irene Justicia, M.A., guides you with demonstrations of techniques - now larger, with enhanced quality, and viewable at full-screen size.

Progress Tracking
Personalized reports show your rate of progress, including scores for specific songs (when used with a MIDI keyboard).

Enhanced multitrack recorded audio
High-quality, multitrack recorded audio is included for every song and exercise. Audio playback options include piano only, voice only, and full audio including both piano and voice.

Variable-speed MIDI
MIDI playback options let you select left or right hand only, or a tick metronome track to play along with. Colorful variable-speed MIDI accompaniments are also available and can be fun to play along with.

Slow down the audio to any tempo using the MIDI slider while the Animated Keyboard shows song fingering as the music plays. You can play along and learn at the pace best suited to your skill level.

Interactive Feedback
When using an electronic MIDI-compatible keyboard, you can get specific feedback on note and rhythm mistakes made while playing the Piano For Dummies CD to help you get it right the next time. Clicking on an individual feedback balloon brings up a keyboard showing you exactly what mistake was made and what should have been played. Also, an overall percentage score summarizes how well you did on the song.

Keyboard Tips
With the click of a button, you get suggestions as to which voice to use on your MIDI keyboard to get the best sound for the song.

Reviews and Ear Training
Interactive review and ear training screens help reinforce new concepts and develop your ear.

Digital Metronome
This allows you to set your own tempo and work on your speed, rhythm, and timing. It provides both visual cue and/or audio tick, with a full range of tempi, from largo to presto.

Digital Recorder
Record and play yourself back. This feature of Piano For Dummies allows you to compare your recordings with the instructor's version, fine-tune your skills, and share your recordings with friends and family.


System Requirements
Windows:
Windows XP / Vista / 7 / 8 / 10


Macintosh:
macOS 10.5 to 10.14

(Internet connection recommended for online activation.)

Attention Mac users: As you may be aware, Apple has decided to discontinue support for 32-bit applications starting in macOS 10.15 (Catalina). If you wish to use eMedia software which requires 32-bit support, do not upgrade past macOS 10.14 (Mojave). eMedia is working on a new version that will support Catalina and future versions of macOS, but they do not yet have a release date for it.

For more information regarding macOS 10.15, please visit: https://support.emediamusic.com/kb/faq.php?id=88
Features
157 step-by-step lessons
Large, easy-to-use interface
Animated Keyboard
High-quality videos
Progress tracking
Enhanced multitrack recorded audio
Variable-speed MIDI
Interactive feedback
Keyboard tips
Reviews and ear training
Digital metronome
Digital recorder
Lessons taught by Irma Irene Justicia, M.A., formerly of the renowned Juilliard School of Music
7 chapters:
1) Playing on Black Keys - Rhythm
2) Playing on White Keys - Notes
3) Tempo, Dynamics and Sight-Reading
4) Playing Songs with Accompaniment
5) Legato and Staccato
6) The C Position and intervals
Appendix