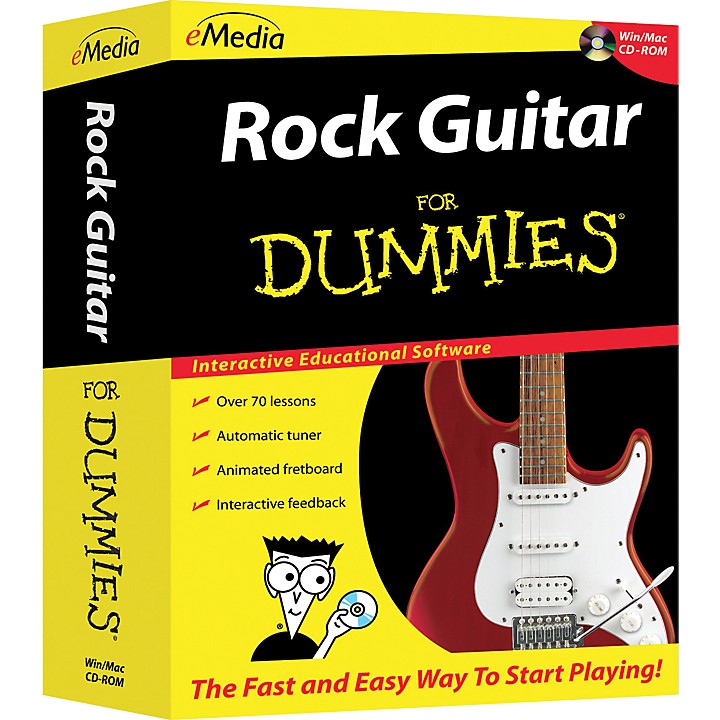 A proven method now applied to Rock with over 80 audio and video-enhanced lessons.
eMedia's Rock Guitar For Dummies CD-ROM features eMedia's new interactive instant feedback technology, which listens through your computer's microphone as you play and highlights correctly played melodies, making learning to read music easy and fun!

Rock Guitar For Dummies makes learning enjoyable and fast with over 80 audio and video-enhanced guitar lessons. The innovative teaching style presents rock songs, chords, riffs and gear tips in an exciting, fast-paced learning format that requires no previous music experience.

This guitar course includes full-motion video and recorded audio, an automatic tuner and an Animated Fretboard, which guides you through songs and fingerings.


System Requirements
Windows:

Windows XP / Vista / 7 / 8 / 10


Macintosh:

macOS 10.5 to 10.14

(Internet connection recommended for online activation.)

Attention Mac users: As you may be aware, Apple has decided to discontinue support for 32-bit applications starting in macOS 10.15 (Catalina). If you wish to use eMedia software which requires 32-bit support, do not upgrade past macOS 10.14 (Mojave). eMedia is working on a new version that will support Catalina and future versions of macOS, but they do not yet have a release date for it.

For more information regarding macOS 10.15, please visit: https://support.emediamusic.com/kb/faq.php?id=88