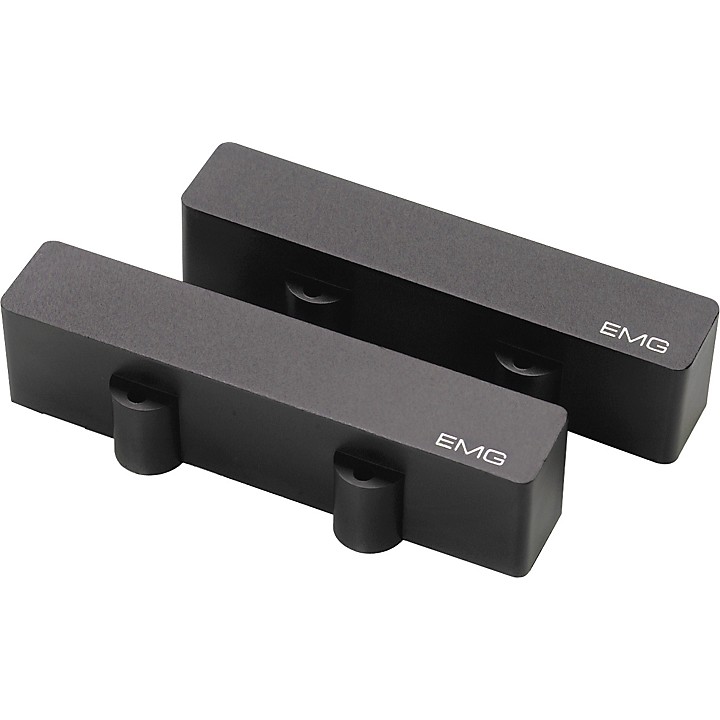 Increases low-frequency response while maintaining traditional tone.
Sweeping harmonic overtones and clarity, these active bass pickups have full-bodied sounds that add new dimensions to your bass playing. They have very low ratios of resistance to inductance that increase the low-frequency response, yet still maintain the narrow aperture for that typical Jazz Bass tone. Instead of the side-by-side pole pieces, the EMG J Sets use single-pole crescent-shaped magnetic fields to complement the radiused fingerboard. So whether you play fretted or fretless bass, you'll get incredible sound yet retain that traditional tone.

Recommended maximum overall string width, however, is 2-3/4" (70 mm). The EMG J Set bass pickups come complete with prewired harnesses including dual volume controls, master tone controls, output jacks, battery clips, and pickup adjustment screws.
Specifications
Resonant Frequency: 4.8 kHz
RMS Output Voltage: 0.8
Peak Output Voltage: 1.10
Output Noise: -91 dBV
Output Impedance: 10 kOhms
Current @ 9V: 80 microamps
Battery Life: 3,000 hours
Maximum Supply: 27V DC
Features
Package includes:
2 EMG-exclusive Quik-Connect cables
Prewired control sets including 2 volume controls
Master tone controls
Output jacks
Battery clips
Adjustment screws