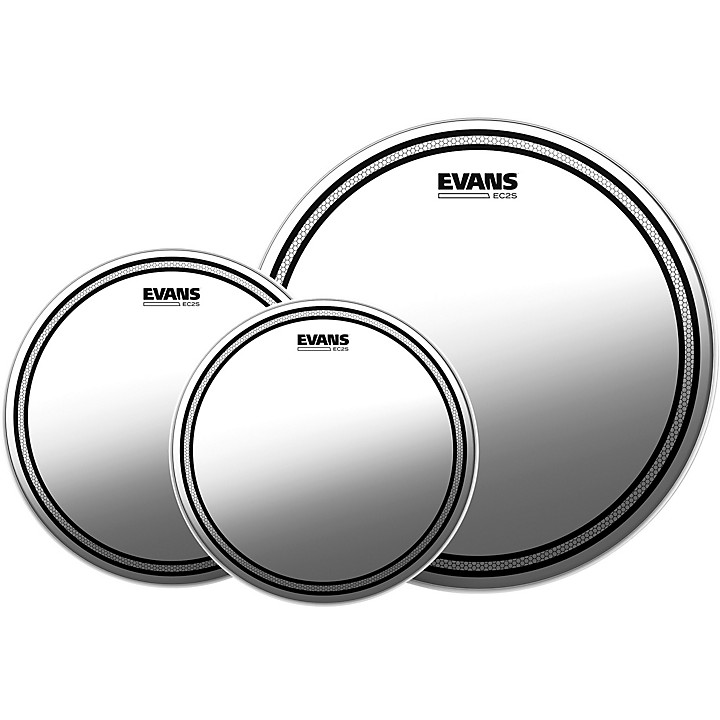 Restore your drum sound to its original glory with this value pack of heads.
Evans™ EC2™ series features two plies of 7 mil film with optimized attack, tone, length of sustain and ease of tuning for each size head. The Sound Shaping Technology (SST™) Edge Control ring mounted on the underside delivers an extremely well balanced and pre-EQ'd sound across the full kit by varying the size of the ring for each different head size.

This pack includes a Free 14 in. Coated HD Dry Snare Head. Evans™ Genera™ HD™ Dry Snare heads feature two plies of film. An outer ply of 5 mil film and an inner ply of 7.5 mil film, in combination with a 2 mil overtone control ring on the underside that "floats" with the head, eliminating excessive overtones and controlling sustain. Precision-drilled dry vents around the perimeter of head reduce overtones and control sustain.
Specifications
Sizes and Purpose
Size(s): Multiple
Quantity: Set
Styles: Multipurpose
Type: Snare/Tom
Side: Batter
Construction
Texture: Clear
Plies: 2
Material: Proprietary
Thickness (mil): 7mil
Weight: Heavy
Collar: Standard
Other
Dampening ring: No
Country of origin: United States
Features
Durable 2-ply construction
Easily tuned with optimized attack, tone and sustain
Multiple size packs available
Includes free snare head