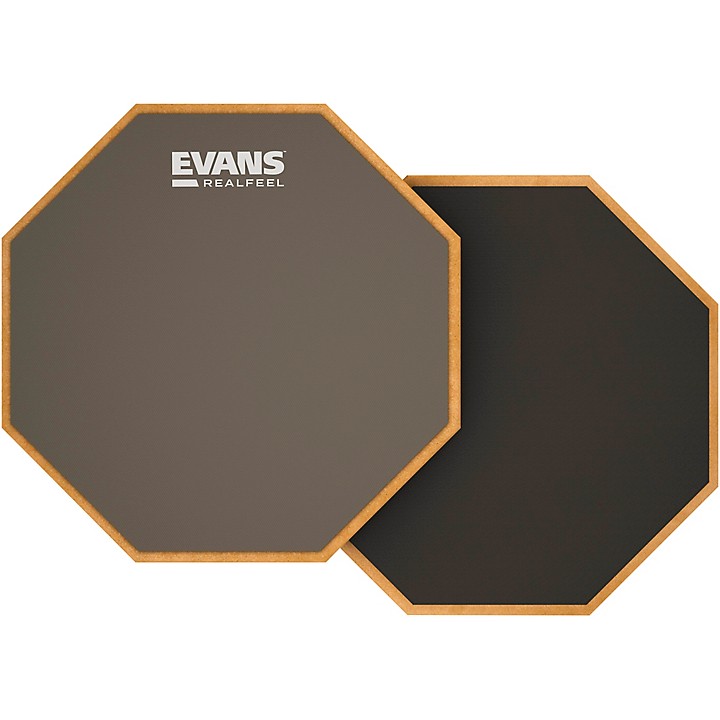 Get your chops rockin'.
The RealFeel 2-Sided Speed and Workout Drum Pad is an innovative portable drum practice pad that provides drummers a versatile way to build speed, endurance, and technique anytime, anywhere. Featuring two unique playing surfaces—a natural gum rubber side for realistic rebound and a recycled rubber side for an intensive practice session—the 2-Sided Speed and Workout Drum Pad suits drummers at every skill level. Evans, an industry leader in drumheads and percussion gear for over 40 years, designed and manufactured this premium pad in the USA to the highest standards of quality and playability.
The natural gum rubber side of the 2-Sided Speed and Workout Drum Pad provides drummers with a surface that feels and responds like an acoustic drumhead. The slightly textured rubber and realistic rebound allow drummers to practice rudiments, rolls, and sticking patterns that directly translate to an acoustic drum set. This versatile surface also works for casual playing along to music or jamming with bandmates.
The opposite side of the pad features a recycled rubber surface that provides less rebound for an intensive practice session. This firm, durable side helps build endurance, speed, and hand control through repetitive striking. The minimal give challenges drummers to strengthen their fingers, wrists, and arms while improving stick control and precision.
Evans offers the 2-Sided Speed and Workout Drum Pad in 6", 7", and 12" sizes to suit the needs of any drummer. The ultra-portable 6" and 7" pads are ideal for portable practice, while the 12" pad provides a larger surface for more comprehensive playing and training. All sizes include a slip resistant bottom pad to prevent sliding.
Like all Evans drum gear, the 2-Sided Speed and Workout Drum Pad is built to last. The natural gum rubber and recycled rubber surfaces are securely bonded to an internal wood core, and the pad is finished with rugged, wear resistant fabric edging. Evans proudly designs, engineers, and manufactures this premium drum pad in the USA.

Features
6" diameter
Hard recycled rubber on one side
Gum rubber on one side