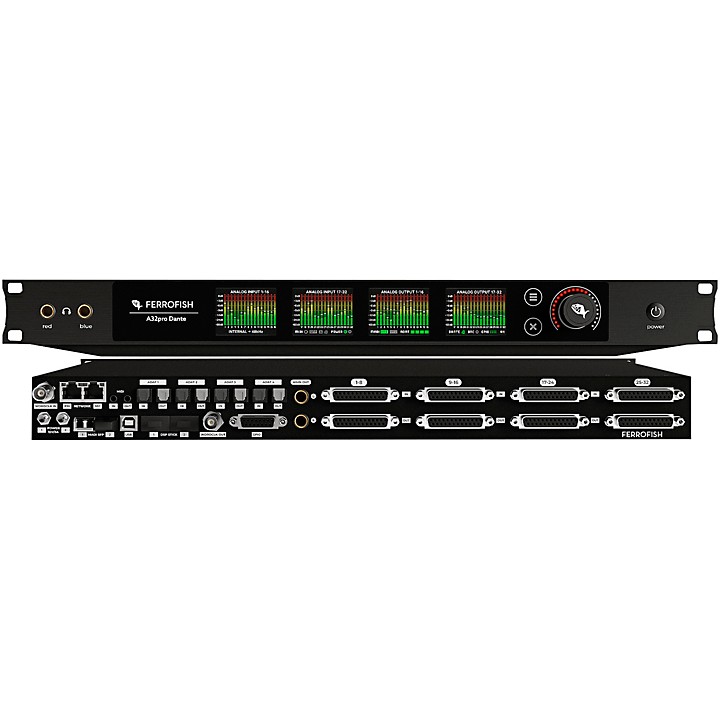 Multi-format smart converter and routing system.
The A32pro Dante from Ferrofish is not just a converter. It's also the ultimate problem solver thanks to its incredible flexibility and modular hardware platform. Overall, the A32pro Dante processes 386 channels, all highly integrated into a 1 slim rack unit. Enumerating all the configurations of the A32pro Dante is almost impossible. In addition to the 32 x 32 studio-grade balanced analog inputs and outputs up to 192kHz, there are a stereo main out, four ADAT I/O, two MADI I/O ports (SFP slots) and of course Dante, brought out redundant on two RJ45 jacks. Everything is routable in groups of eight channels each.

Clarity and operational reliability has first priority. Both Dante and MADI are laid out redundant, an essential feature for live operation! Of course, a second power supply can be connected, and thanks to the four multitouch TFT screens, the user always has full control. Packed into a compact 1RU, the highly integrated converter is equipped with 32 x 32 balanced analog channels, brought out on eight D-SUB connectors. They deliver studio levels up to +20dBu, individually adjustable in 1dB steps. The sophisticated design, using latest generation ESS converters, accompanied with a temperature-compensated clock and jitter reduction PLL guarantees best crystal clear sound up to 192kHz.
Specifications
Analog Inputs (AD): 4 x DSub25
Analog Outputs (DA): 4 x DSub25
Headphones Out: 2 x 1/4" TRS jack
ADAT I/O: 4+4 optical interfaces (8 channels each with 48 kHz)
MIDI I/O: 2 x 1/8" TRS connector for remote control
Power Supply: 12V, 3A
USB Port: 1 x USB 2.0
Features
Two RJ-45 Ethernet connector (CAT5/6 cables)
64 x 64 channel Brooklyn series board built-in
192 kHz operation (S/MUX up to 192kHz)
GPIO Port for remote preset switching and alert monitoring
DSP Plugin-ready
A/D and D/A converters with switchable filters
Dual Headphone output for easy monitoring
MIDI over MADI Preset Management
Extensive routing/mixing possibilities
Redundancy (MADI I/O, Dante I/O, Power Supplies)