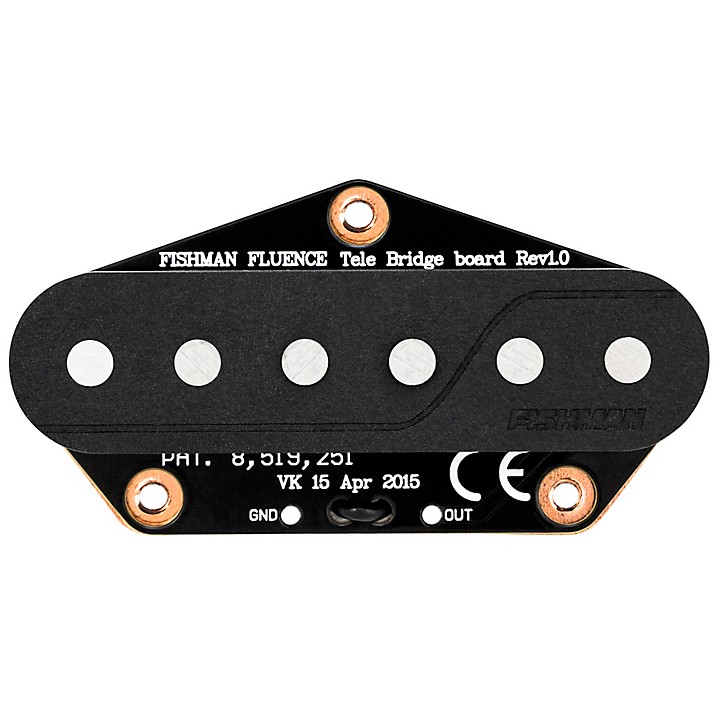 Experience the tone of one of the most respected guitarists from the land of Les.
The Fishman Fluence Greg Koch "Gristle-Tone" single-width Telecaster pickup set is Multi-Voice. You can set and forget, or wire them up to toggle between two musically complimentary voices. They can be dropped right in to replace standard Tele pickups. Best of all, they are rechargeable on your guitar. The included lithium-ion battery pack offers weeks, not hours, of playing time.

Voice 1 – White-Guard: Open and airy, the sound of Nashville and Bakersfield, chicken pickin' and the big strum
Voice 2 – Black-Guard: Fat & punch, searing sustain for undeniable Tele muscle

Get to know Greg Koch
An unsung guitar hero from Milwaukee, Wisconsin, Koch grew up just a few miles from the birthplace of the late, great guitarist-inventor Les Paul. Much like Paul, Koch established himself within six-string circles as a masterful technician, accomplished clinician and general bad-ass guitar picker. So much so that guitar virtuoso Steve Vai liked what he heard and signed him to his Favored Nations label in 2001. Guitar Player magazine's Tom Wheeler once hailed him as "fiendishly talented" while other critics have called him everything from "a twisted guitar genius" to "the best kept secret in the guitar firmament."

As a leader of various bands bearing his name, Greg Koch has toured the world bringing the "Gristle" to the people. He continues to channel all the right people on his most recent collection of blues, funk and R&B, including Jimi Hendrix, Albert King, Albert Collins, Jeff Beck and Roy Buchanan with touches of Stevie Ray Vaughan, Danny Gatton and Richie Blackmore thrown in for good measure. And he filters all those killer influences through his own slightly bent prism that is tinted with grunge, gristle and good clean fun.

And now, with this Greg Koch "Gristle-Tone" Telecaster pickup set you can have some of his signature shine.
Specifications
1 lead and 1 rhythm direct replacement pickups for Telecaster guitars
Completely assembled, pre-wired, drop-in control plate that includes:
3-way switch
Volume and Tone pots
Push-push Voice Selector button
Fluence rechargeable lithium-ion battery pack
Replacement "jack cup" with 1/4" audio and USB charging jacks
Installs without permanent modifications*
Hum-free, Fluence Multi-Voice tone
Middle/Both position accurately reproduces the shift in resonance that occurs when using two passive pickups in parallel, compared to either Neck or Bridge pickup by itself