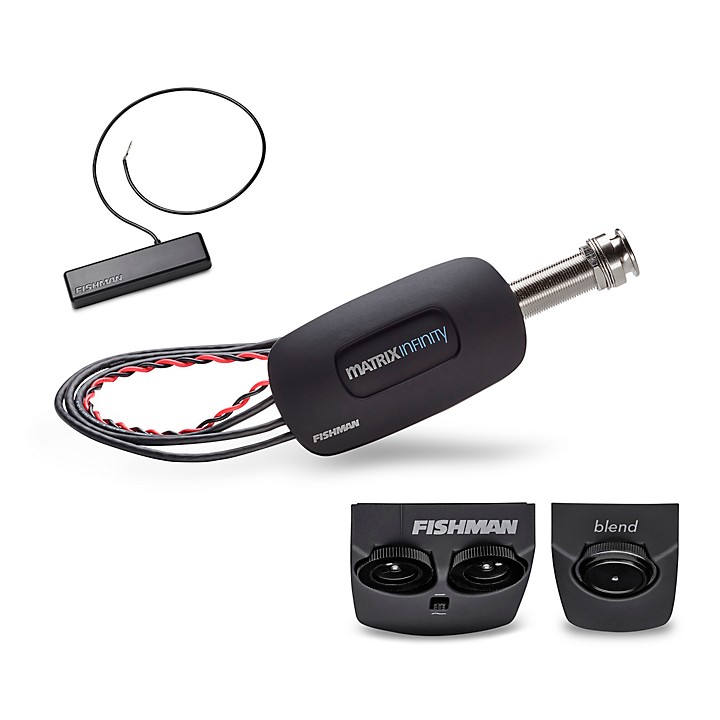 PowerTap Infinity runs the gauntlet of tone.
The Fishman PowerTap Infinity pickup system combines the superior performance and tone of the Matrix Infinity undersaddle pickup system, with a totally new soundboard body sensor. The result is a new world of percussive performance elements and tactile dynamics for guitarists of all styles — a grand addition to the new Fishman Acoustic PowerTap series.

With the addition of Tap pickup technology, players can add new performance dynamics of Touch, Ambience and Percussion. The easily adjustable Blend control mixes the Acoustic Matrix and Tap signals in mono, or you can run both signals into separate channels using a stereo cable. This feature allows players to add separate effects, level control and EQ to each pickup independently to create a striking soundscape of tones from a single instrument.

A sealed enclosure for the soundhole-mounted Volume and Tone control module allows players to effortlessly make adjustments to their sound. The preamp's voicing switch has been relocated and made easily accessible, so players can accommodate different types of guitars, amplification choices, playing styles and performance situations.