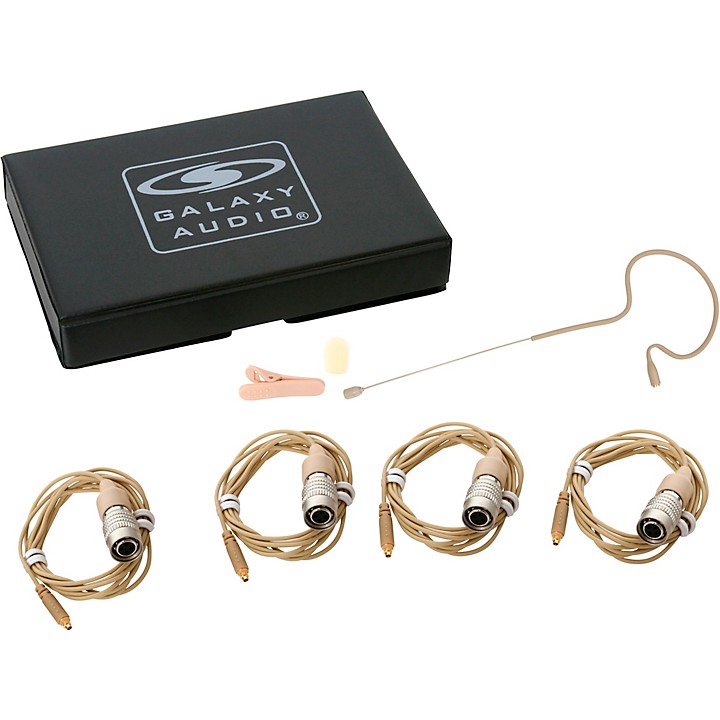 Works with a variety of systems.
With a new design and detachable cables, this Galaxy Audio ESM4 single-ear headset mic package is a great choice for those looking for an economical headset. The ESM4's super lightweight design makes wearing the microphone more comfortable, even for long periods of time, without using excessive pressure to hold the microphone in place. The soft microphone stem allows for easy adjustment of the microphone's position as you wear the headset.

These single-ear headset microphones work great with many wireless transmitters, like Galaxy Audio's wireless microphone body packs. The Audio-Technica Gen 1 cW detachable cables can be wired to work with transmitters made by Galaxy Audio, Shure, Sennheiser, AKG and Audio-Technica, as well as most other brands of wireless microphone systems. You can also use the Galaxy Audio ESM4 single-ear headset microphone with most PC sound cards (adapter not included).
Specifications
Polar PatternFrequency ResponseImpedanceSensitivityMax SPLOperating VoltageCable Length
4' (1.22 m) x 1.5 diameter, 1.5 mm thick detachable cable
Mic Boom LengthElementElement TypeColorWeight
Features
Wraps around one ear
Omni mic element
Flexible for easy formation
4" mic boom length
5 mm mic diameter
Condenser element
Freq. response: 85Hz–15kHz
Detachable cables
Included Accessories
4 Audio-Technica Gen 1 cW connector cables
Windscreen
Mic clip
Case