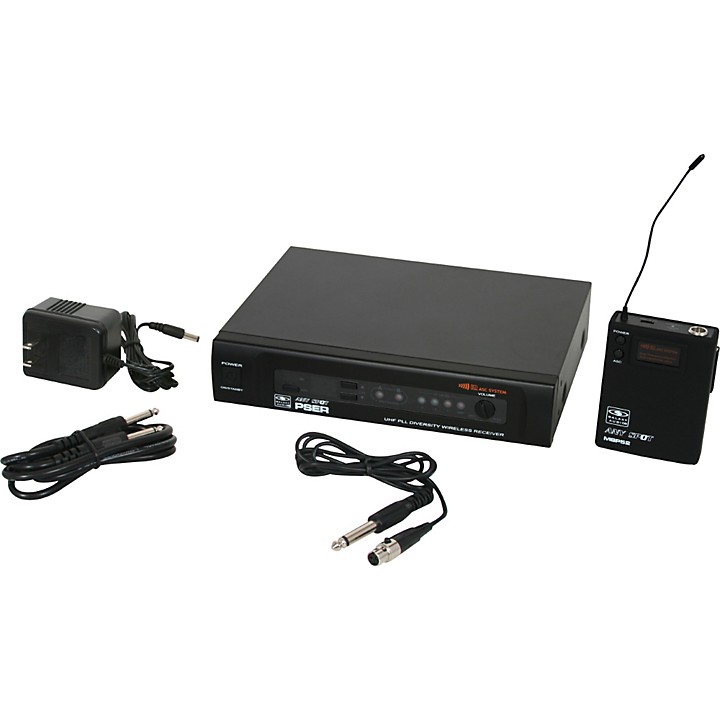 Affordable guitar wireless system from Galaxy Audio.
The PSE Guitar System by Galaxy Audio is a UHF receiver with 16 selectable channels along with a belt pack transmitter designed for guitar. The receiver features a volume control, channel display, and IR Sync. The PSE has an XLR and a ¼" output and squelch adjustment.

This unit comes with a ¼" cable that plugs into your guitar, and that terminates on the other side in a mini XLR jack that plugs into a belt pack transmitter. The belt pack then transmits the signal to a half-rack space diversity receiver, which in turn feeds your amplifier. There is little chance of dropout with a two antenna system, and with 16 selectable frequencies, you can be sure of not confusing your signal with other wireless devices being used on the same stage.
Specifications
Audio Output Level: (+/-30KHz deviation, 1KHz tone) XLR connector (into 600 Ohms load) -12dBV ¼" connector (into 3KOhms load) -18dBV
Output Impedance: XLR connector 200Ohms ¼" connector 1KOhms
XLR output: Impedance balanced
Pin1L: Ground (cable shield)
Pin2: Audio
Pin3: No Audio
Sensitivity: -93dBm for 30dB
Image Rejection: >90dB
Dimensions: 8.3 x 1.7 x 6.3 in.
Weight: 31oz.
Power Requirements: 12-18 V dc at 400mA, supplied by external power supply.
Features
Receiver (PSER)
Output Volume Control
AF Level Indicator
IR Sync
Squelch Adjustment
XLR/¼" Outputs
Body Pack (MBP52)
IR Sync
2 AA Batteries
Mic/0/-10 dB
3 Position Switch
Low Battery Indicator