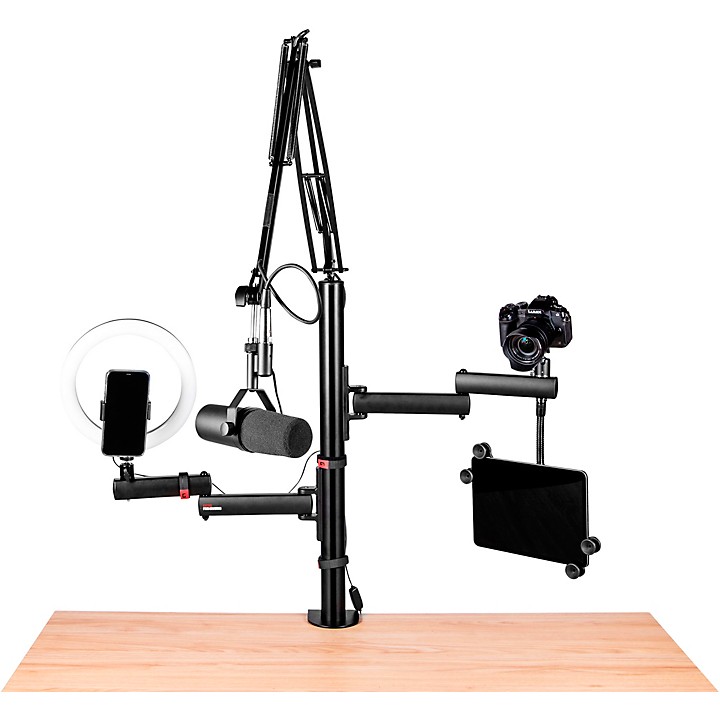 All-in-one modular content creation stand to help you create pro-level content quickly and easily.
Ensure that everything you need to create your content is set up, organized and ready to go with the ID Series Creator Tree by Gator Frameworks–your content lifesaver. This completely customizable, adjustable set-up allows creators to configure their workspace to their personal preferences. Keep your cameras, lights, mics and other accessories exactly where you want them with a system that can grow with you. Innovation and design is in every detail. Regain valuable space by clamping the creator tree directly to your desktop and mounting your phone on the included LED ring light and adjusting it to the most flattering angle. A ball-head camera mount with a reversible cold shoe mount will put your camera where you need it. Mounting accessories on the top or the bottom of the extendable arms give you multiple setup options. Put your microphone at the center of the action with the 360-degree rotating mic boom arm. Speed and convenience are crucial to getting your content created and posted in a competitive content market. The Creator Tree organizes the vital components of your content creation station, right there within easy reach.
Specifications
Dimensions (LxWxH): 28.5" x 20.75" x 10.5"
Max height: 47.5"
Max width: 34"
Weight: 11.5 lb.
Features
Dual accessory arms with vertical height adjustment
Top arms rotate 360-degrees and lock at desired position
10" LED ring light with smart phone holder has 3 color modes with 10 brightness levels including cool, neutral and warm white
Standard top-mounted microphone boom arm with 360-degree locking rotation
Heavy-duty ball head camera mount with reversible cold shoe adapter tilts 90-degrees and pans 360-degrees for custom camera positioning
Camera adapter fits most devices that accept 1/4"-20 threads, including DSLR cameras, mirrorless cameras, video cameras and similar gear
Included adapters are five 1/4"-20 male to 1/4"20 male threaded adapters, two 1/4"-20 female to 5/8"-27 male threaded adapters, two lighting spigot adapters and 6" and 13" goosenecks for flexible placement of gear
Great for content creators, live streaming, podcasts, video tutorials and similar applications
Space-saving, ergonomic design that clamps directly onto desk edge to free up workspace