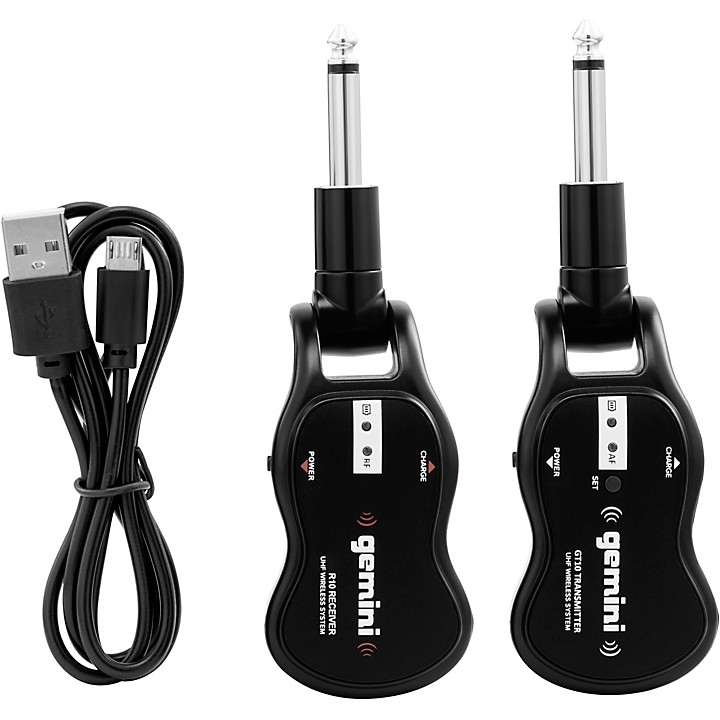 Wireless system for acoustic-electric guitars.
The GMU-G100 is a UHF wireless guitar system with rechargeable 1/4" wireless transmitter and receiver. This expandable plug & play system will meet all your wireless guitar needs with USB rechargeable batteries and long-distance wireless connection—just plug in and power on and you're ready to rock. The GMU-G100 is made for electric and acoustic-electric guitars but will work with any instrument or audio device with a 1/4" output that requires movement on stage, such as a keytar or electric violin.

Complete wireless system
Easily connect wireless transmitter to the wireless receiver for untethered audio connection in a variety of settings from music performances to weddings and conferences. Wireless range over 50 meters with a stable signal and no delay.

USB charging
Both the transmitter and receiver include rechargeable lithium batteries. Conveniently charge via USB with included cable. Batteries provide hours of use on a single charge.

Endless options
From live performance to livestreaming, the GMU wireless series will perform well in many applications and scenarios. Whether in a professional environment or at home, the GMU-G100 offers the perfect solution for your wireless guitar and instrument needs.

Plug and play
Guitar transmitter automatically pairs, just connect receiver to your audio device and power on. Change frequencies with ease from the transmitter's SET button. With a wide range of available UHF frequencies, you'll have no trouble finding an interference free channel to transmit audio. (United States: 512–541.7MHz)

Expandable system
The GMU Wireless System can support six pairs of devices working without interference as well as ability to transmit one signal to several receivers at the same time.
Features
UHF high-band single-channel receiver with multi-selectable frequencies
Ultrafast Microcomputer Controlled PLL Oscillation Circuit
Advance Compression Circuit rejects unwanted noise
Hassle-free Automatic Transmitter setup via SET button
GT10 transmitter with 1/4" jack, connect to guitar, keyboard, mixer etc
R10 receiver with 1/4" jack, connect to powered speaker, amplifier, pedal, mixer, etc.
Charge transmitter and receiver via Micro-USB portWhat's in the box

R10 Wireless Receiver
G10 Wireless Transmitter
Micro-USB Charging Cable
User Manual