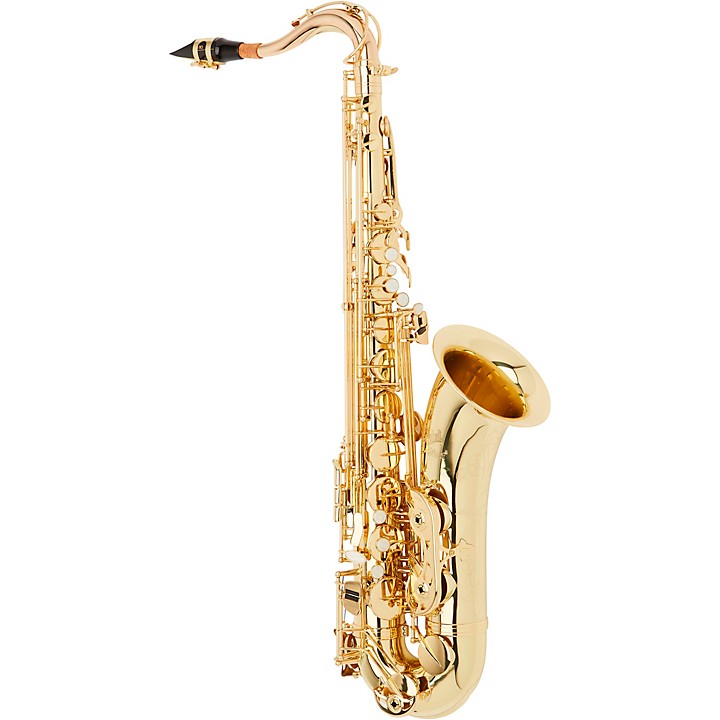 Build your skills on this intermediate, artisan instrument.
This intermediate GTS-12 Series tenor saxophone from Giardinelli by Selmer has an artisan design with signature Selmer tone. Rich, warm and projecting tone comes from the fully ribbed construction and rose brass neck. The tone hole system and bore design provide superb intonation and ease of flexibility. Other features include Pisoni Pro pads, metal resonators, and a professional Selmer Paris S-80 mouthpiece. These create a perfect balance between ease of response and tone depth. Double arm bracing on the bell keys provide durability. This also ensures consistent and reliable seating of the pads.

The fully ribbed construction and tri-point bell brace create a strong foundation for the key mechanism. This keeps the key work in optimal adjustment. The blue steel needle springs create a light and fast key action for which Selmer is known. Other features include an adjustable thumb rest, titled left hand spatula keys, and superb ergonomics. These provide everything needed for fast and demanding technical passages. The gold lacquer is ornamented with elegant hand engraving, highlighting the craftsmanship of the saxophone. To protect this instrument when not in use, it comes with a BAM case. The case features comfortable backpack straps, a spacious accessories compartment, durable handles, and an outer pocket for sheet music.
Features
Intermediate level
Fully ribbed construction
Rose brass neck
Pisoni Pro pads
Metal resonators
Selmer Paris S-80 mouthpiece
Double arm bracing on bell keys
Tri-point bell brace
Blue steel needle springs
Adjustable thumb rest
Tilted left hand spatula keys
Ergonomic design
Gold lacquer finish
BAM case included