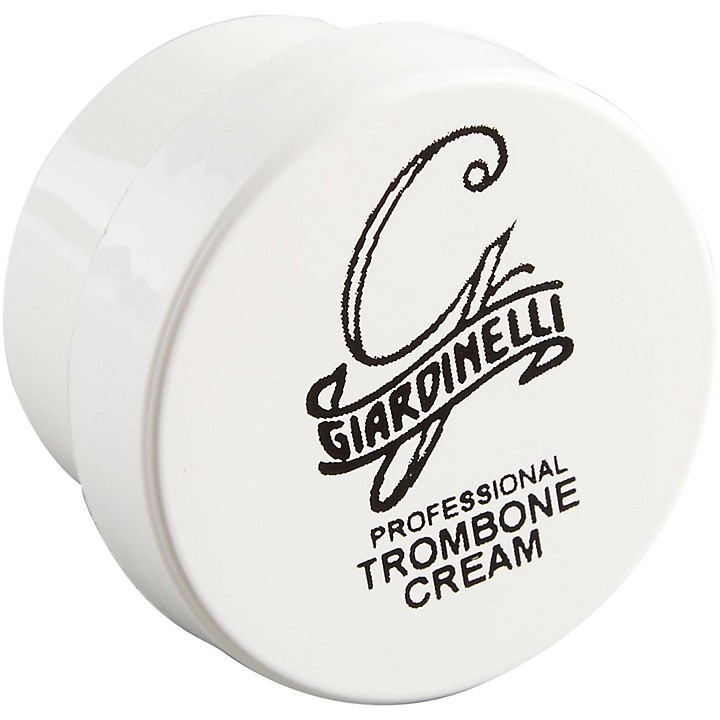 Giardinelli Trombone Slide Cream is designed to keep your trombone slide moving swiftly and silently. Specially formulated for trombonists, this unique cream creates an ultraslick coating to minimize friction and sticking. With regular use of Giardinelli Trombone Slide Cream, your hand slide will glide effortlessly for unparalleled control. Music & Arts is proud to offer Giardinelli Trombone Slide Cream, an essential accessory for any trombonist looking to optimize their instrument's performance.
Ultra-Low Friction Formula
Giardinelli Trombone Slide Cream utilizes an advanced formula to minimize friction between slide tubes for lightning-fast response. The creamy lubricant forms an almost frictionless barrier, allowing the inner and outer slide tubes to move freely. Reduced sticking and squeaking means you can focus on technique instead of struggling with a sluggish slide.
Long-Lasting Protection
A single application of Giardinelli Trombone Slide Cream will protect your slide for multiple playing sessions. The creamy lubricant is highly resistant to drying out and wearing off, clinging tightly to the slide tubes to prevent rust and corrosion. For extended protection, reapply the slide cream every few weeks or after cleaning and drying your slide and renew the action with a light misting of water.
Easy Application
Giardinelli Trombone Slide Cream comes in a convenient jar for quick and mess-free application. Simply apply a small amount of the cream to the outer slide tube and spread evenly along its length. Slide the inner tube through the lubricated outer tube a few times to distribute the cream and you're ready to play. The slide cream wipes away easily with a soft cloth when you need to reapply.
Trusted by Players at All Levels
Giardinelli Trombone Slide Cream is a preferred lubricant of trombonists from beginner to professionals. Giardinelli has been crafting premium accessories for brass instrumentalists for over 50 years. Trombone Slide Cream is just one example of their dedication to helping musicians achieve peak performance and tone quality from their instruments.
Features
Lubricates hand slide for smooth movement and prevents sticking
Non-toxic, odorless formula safe for all handslides
Long-lasting protection through multiple playing sessions
Compatible with all trombone slide materials
WARNING: This product can expose you to chemicals including Ethylbenzene, which is known to the State of California to cause cancer. For more information go to www.P65Warnings.ca.gov