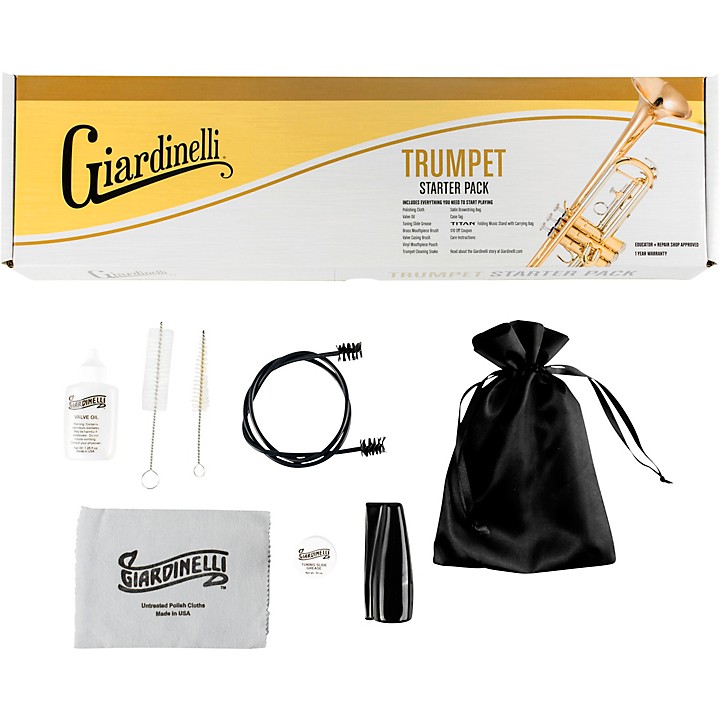 Maintain your trumpet with all the essential care tools.
The Trumpet Starter Pack by Giardinelli is a meticulously assembled kit designed to cater to both beginner and intermediate trumpet players. This kit contains essential maintenance products and tools including valve oil, slide grease, a mouthpiece brush, valve casing brush, flexible bore cleaning brush, polishing cloth and a protective mouthpiece pouch to provide comprehensive care for your trumpet.

Also, it includes a beginner's guide that offers invaluable tips and information for those starting their musical journey plus a folding music stand to hold a method book or sheet music for proper playing position. The Giardinelli Trumpet Starter Pack not only aids in achieving optimal trumpet performance but also assists in understanding the essential aspects of instrument maintenance, making it an invaluable resource for budding musicians.
Features
Starter Pack Includes
Polishing Cloth
Valve Oil
Tuning Slide Grease
Mouthpiece Brush
Mouthpiece Pouch
Cleaning Snake
Case Tag
Music Stand