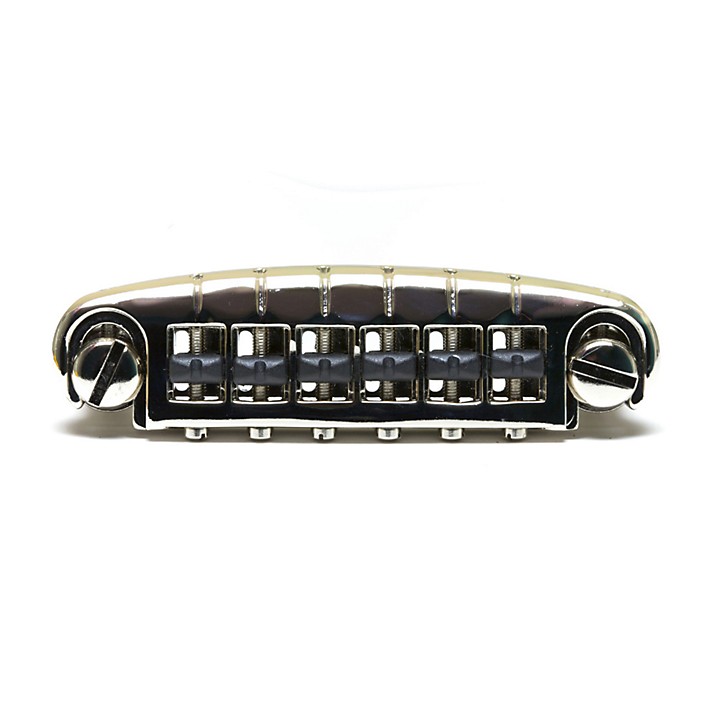 A bridge designed to bring out the best in your sound with comfort and ingenuity.
The new ResoMax Wrap Harmonic Bridge System is designed to maximize harmonic content and richness in every note. Super sexy and entirely curvaceous, the bridge is completely comfortable for superior palm muting. Exclusive to the ResoMax system, the AutoLock feature magnetically secures your bridge at all times with no tools to use or lose, making restringing simple and quick.
Specifications
How do I know if it will fit my guitar?
The most common post spacing is 3-7/32" or 82mm. This is a standard post spread used by most manufacturers today. Measure the distance between the center of one post to the center of other post.
String spread is the distance between the centers of the outer strings on a bridge.
Saddle radius determines the arc formed by all the individual saddle heights, and should match the radius of your fretboard.
Post spacing is the center-to-center distance between of the mounting posts of your bridge.
String spread Saddle radius Post spacing Post threads
2-1/16" 12" 3-7/32" 5/16 -24UNF
Features
Light weight ResoMax Alloy bridge
Comes equipped with String Saver saddles
AutoLock magnetically locking bridge
Triple plated finish for durability and good looks