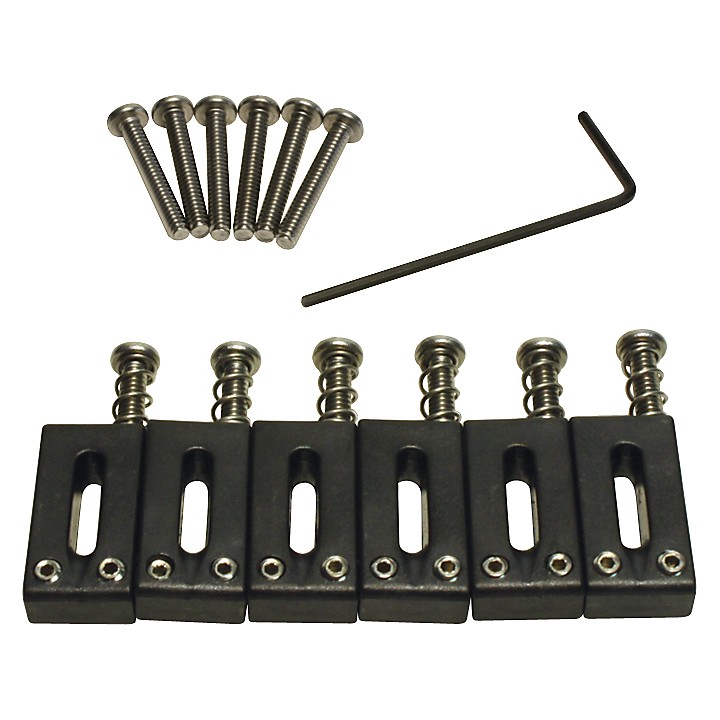 Combining the microscopic lubricant technology of String Saver with the classic look of steel.
String Saver Originals Strat & Tele Offset are a unique combination of materials made to enhance tone and dramatically reduce string breakage.

How do they work? A string resting on a metal saddle binds and locks the string in place. As the string vibrates, it stresses the string on a very specific point producing metal fatigue and then string breakage. Each String Saver saddle is impregnated with Teflon, the slipperiest substance on earth. The Teflon in String Savers eases the grip between the saddle and string, spreading the stress over a greater portion of the string, just enough to drastically reduce string breakage. Teflon is 500% more slippery than graphite and is impregnated throughout the String Saver material, so its lubricating properties will never wear out. For string breakage reduction the difference is dramatic. Strings that last and last, no matter how hard you play...we guarantee it!

What do they sound like? Metal saddles have a pronounced 2 KHz treble spike that dominates the tonal spectrum. String Saver Originals have a more balanced tone, with highs, mids and big open lows. You will also notice an increase in sustain by up to 25% over brass saddles and 15% over steel.

* Reduces string breakage
* Increases sustain
* Improves midrange depth
* Super lubricating
* Improves tuning
* Corrosion resistant
* Inspires confidence

String Saver Originals are made entirely of our String Saver material.
Specifications
Measurements
Thickness: 13/32" (10.41mm)
Length: 13/36" (20.7mm)
Height: 7/32" (5.84mm)
E-to-E: 2-1/16" (52.45mm)