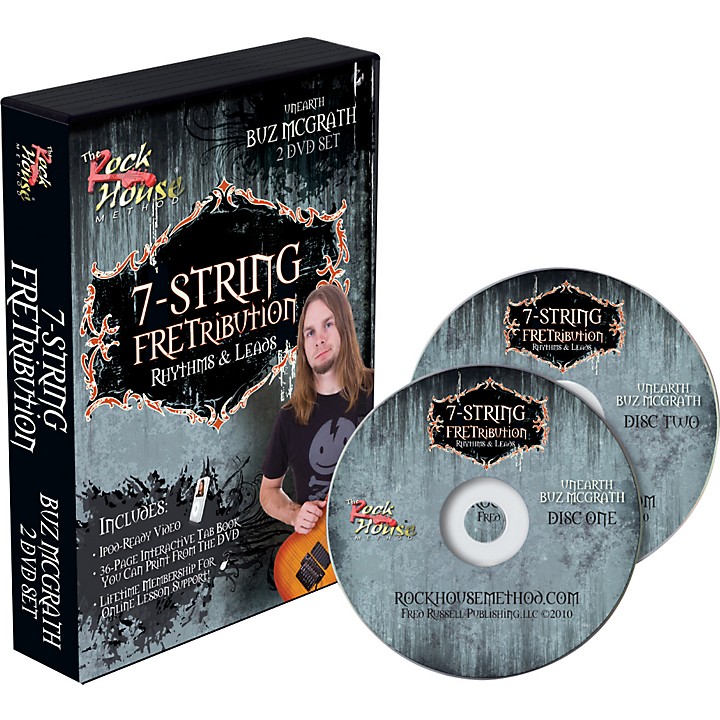 Taught by Buz McGrath of Unearth.
The 7-String guitar is the foundation that gives some of popular music, especially heavy metal its ferocious sound. In this program, Buz McGrath of Unearth reveals his lead and song writing techniques. Learn sweep arpeggios, 7 string minor seventh arpeggios, hammer pull off runs and shred riffs spanning the neck. Buz teaches his unique way of creating harmony sections and pivoting lead techniques. Learn how to construct songs using the combination of single note riffs and power chords and how to add harmony guitar counterparts to create interesting full rhythms. Understand how to play 7-string syncopated and odd time rhythms, speed thrash and rhythm codes that are the signature of 7-string sound.

Each Rock House video Includes a lesson tab booklet, iPod-ready video, and free lifetime membership to Rock House's online lesson support. Enhance your learning experience to links with instructors, download backing tracks, access message boards, and much more. You'll connect with a community of musicians around the world learning to play music using The Rock House Method.
Features
More than 30 Lessons
36-page interactive tab book you print from DVD
Free lifetime web membership for online support
iPod-ready video
Language: English
Length: 110 Minutes,
Zones: The DVD is zoned to play anywhere in the world