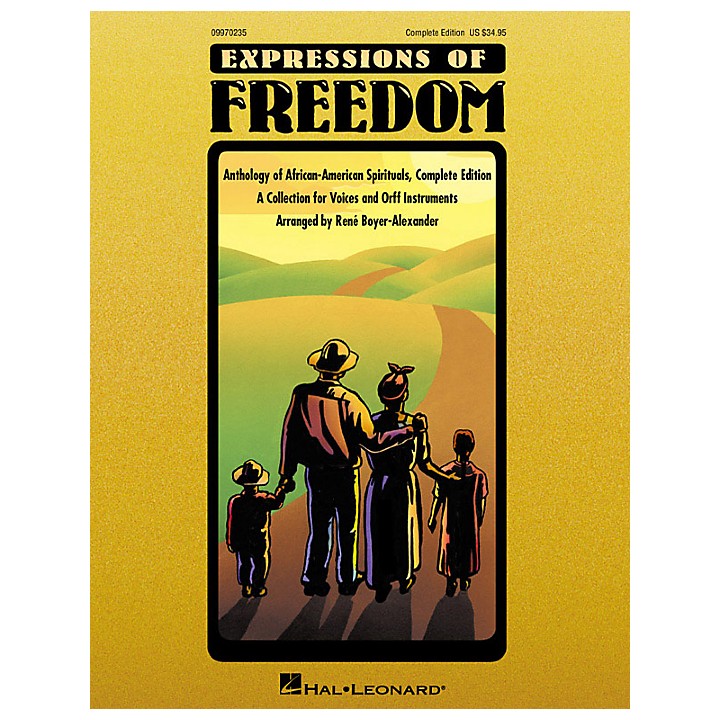 The history of the African American people was one of physical hardship and emotional anguish, yet the music arising from this struggle - the spiritual - was one of deeply-felt emotion. This collection of spirituals, arranged by Rene Boyer-Alexander for voices and Orff instruments, is much more than a mere song collection. It is a chronicle of expression that will enrich and uplift both children and adults in classrooms, choirs, community gatherings and churches. In three volumes or one complete edition, it includes arrangements of over 55 songs, historical background, suggested program uses and cultural connections.

Available: Volume I, Volume II, Volume III, Complete Edition. For all ages.
Specifications
Inventory #HL 09970235
ISBN: 9780634029219
UPC: 073999702354
Width: 8.5"
Length: 11.0"
Series: Expressive Art (Choral)
Complete Ed
Composer: Rene Boyer-Alexander
Arranger: Rene Boyer-Alexander
Features
Song List:
Ain't Gonna Grieve (Traditional)
All God's Children Got Shoes
All Night, All Day
Angel Band
Behold That Star
Chatter Wid De Angels
Children Go Where I Send Thee
Deep River
Didn't My Lord Deliver Daniel?
Do Lord
Dry Bones
Elijah Rock
Every Time I Feel The Spirit
Ezekiel Saw The Wheel
Follow The Drinkin' Gourd
Free At Last
Git On Board
Go Down, Moses
Go, Tell It On The Mountain
Good News
He's Got The Whole World In His Hands
Hold On
Hold Out Your Light
I Want Jesus To Walk With Me
I Want To Be Ready
I'm Goin' Home On The Morning Train
I'm Gonna Sing When The Spirit Says Sing
I'm Trampin'
I've Been 'Buked
In Bright Mansions Above
In That Great Gettin' Up Morning
Joshua (Fit The Battle Of Jericho)
Little David, Play On Your Harp
Mary Had A Baby
No Hiding Place
Nobody Knows The Trouble I've Seen
Now Let Me Fly
Oh Freedom
Oh Lord, I Want Two Wings
Oh Mary
Oh Won't You Sit Down?
Oh, What a Beautiful City (Boatner)
The Old Ark's A-Moverin'
Old Zion's Children March.Along
Rise And Shine
Rise Up, Shepherd, And Follow
Rock-A-My Soul
Roll De Ol' Chariot Along
Sit Down Servant
Somebody's Knocking At Your Door
Sometimes I Feel Like A Motherless Child
Standin' In The Need Of Prayer (Standing In The Need Of Prayer)
Steal Away (Steal Away To Jesus)
Swing Low, Sweet Chariot
This Little Light Of Mine
This Train
Wade In The Water
Walk Together, Children
Wheel's A-Turnin'
When The Saints Go Marching In
Who Built The Ark?
Who Did Swallow Jonah?