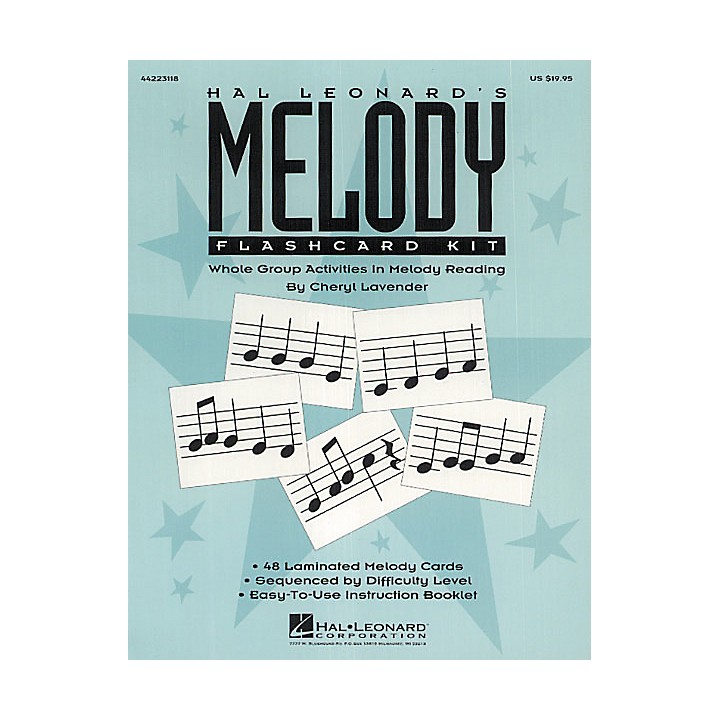 HAL LEONARD'S MELODY FLASHCARD KIT
Composer/Author: Cheryl Lavender
Like the Hal Leonard Rhythm Flashcard Kit, this innovative kit by master teacher Cheryl Lavender extends the learning into melody patterns and likewise provides motivation, stimulation, and practice for your students in a fun whole-class or cooperative learning situation. The melodic patterns are sequenced by difficulty (S-M and S-M-L, the pentatonic scale and the diatonic scale) and each of the 48 cards features a common melodic pattern. But the greatest benefit of this fun and practical approach to learning is that both sides of the cards are laminated for durability and for use with wipe-away dry erase markers. Side 2 of each card features a blank staff, so that you can create your own melodic patterns for students to read, or for the students to use in learning to write notes and intervals, melodic dictation, and even their own songs. This classroom-tested kit comes complete with a wealth of ideas in the easy-to-use instruction booklet all enclosed in the handy cover wrap. Whether you use the ideas suggested or let it be a springboard to your own creativity, you may never have to cut up poster board again! For Grades 3-8.