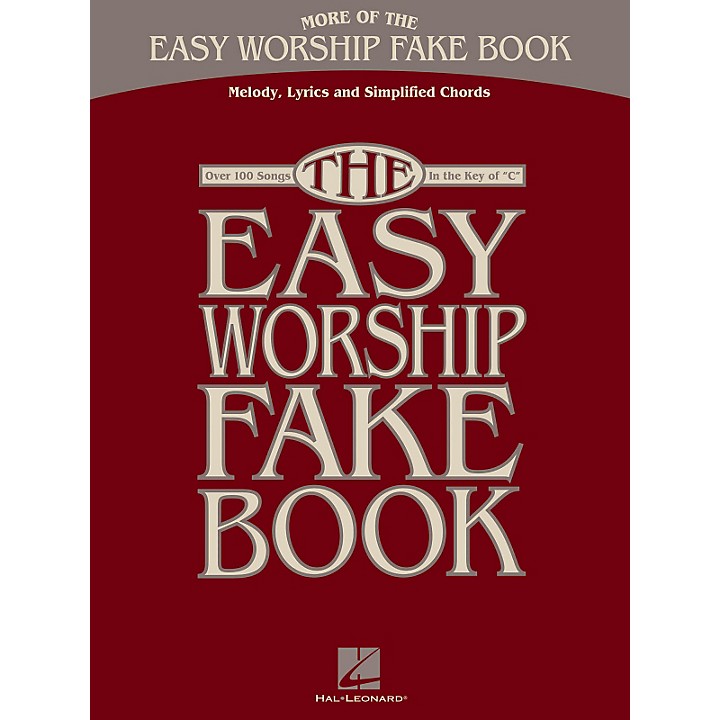 Over 100 Songs In The Key Of C to show your love of G-O-D.
More of the Easy Worship Fake Book is a second volume of over 100 contemporary worship favorites! All songs are in the key of C and include lyrics, and chords which have been simplified, but remain true to each tune. All songs are presented in easy-to-read notation.

Song list:
"All The Earth Will Sing Your Praises"
"All Who Are Thirsty"
"Amazed"
"Ancient Words"
"At The Cross"
"Awesome Is The Lord Most High"
"Be Glorified"
"Beautiful One"
"Before The Throne Of God Above"
"Came To My Rescue"
"Center"
"Come Thou Fount, Come Thou King"
"Consuming Fire"
"Counting On God"
"Desert Song"
"Did You Feel The Mountains Tremble?"
"Enough"
"Everyday"
"Famous One"
"For All You've Done"
"For Who You Are"
"Forever Reign"
"Friend Of God"
"From The Inside Out"
"Give Us Clean Hands"
"Glory In The Highest"
"Glory To God Forever"
"God Is Great"
"God Of This City"
"Grace Flows Down"
"Happy Day"
"Healer"
"Hear Us From Heaven"
"Here In Your Presence"
"Hosanna"
"Hosanna (Praise Is Rising)"
"How Can I Keep From Singing"
"How Deep The Father's Love For Us"
"How Great Is Our God"
"How He Loves"
"I Am Free"
"I Will Boast"
"Jesus Messiah"
"Jesus Saves"
"Lead Me To The Cross"
"Let Everything That Has Breath"
"Let God Arise"
"Let It Rise"
"Let My Words Be Few (I'll Stand In Awe Of You)"
"Let The Praises Ring"
"The Lord Reigns"
"Love The Lord"
"Made Me Glad"
"Made To Worship"
"Majestic"
"Majesty (Here I Am)"
"Marvelous Light"
"Mighty To Save"
"My Savior Lives"
"New Doxology"
"A New Hallelujah"
"No Sweeter Name"
"None But Jesus"
"Not To Us"
"Nothing But The Blood"
"O Praise Him (All This For A King)"
"Offering"
"One Way"
"Our God"
"Our God Saves"
"Overcome"
"The Power Of The Cross (Oh To See The Dawn)"
"Praise Adonai"
"Rescue"
"Revelation Song"
"Salvation Is Here"
"Sing, Sing, Sing"
"Sing To The King"
"Speak O Lord"
"The Stand"
"Still"
"Stronger"
"Take It All"
"Take My Life"
"Thank You, Lord"
"The Time Has Come"
"Today Is The Day"
"Unchanging"
"We Want To See Jesus Lifted High"
"Wonderful Maker"
"Wonderful, Merciful Savior"
"You Alone"
"You Are God Alone (Not A God)"
"You Are Good"
"You Are Holy (Prince Of Peace)"
"You Never Let Go"
"You, You Are God"
"You'll Come"
"Your Grace Is Enough"
"Your Love Oh Lord"
"Your Name"
Features
ISBN: 9781617803840
Width: 9.0"
Length: 12.0"
184 pages