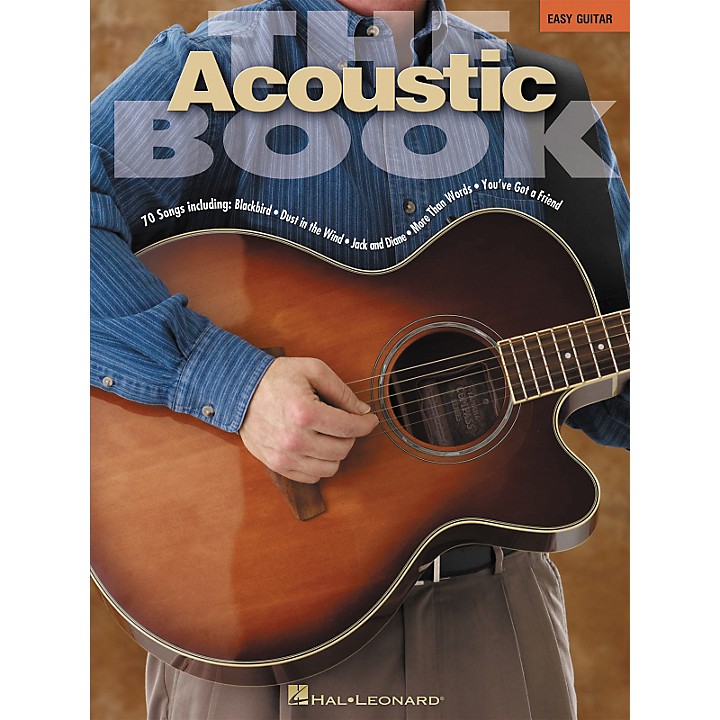 70 popular acoustic hits culled from the history of rock for you to learn.
The Acoustic Book features easy arrangements of 70 of the most popular acoustic hits taken from different eras and different genres of music.

The song list includes:
"About A Girl"
"Adia"
"American Pie"
"At Seventeen"
"Babe, I'm Gonna Leave You"
"Baby, I Love Your Way"
"Band On The Run"
"Behind Blue Eyes"
"Best Of My Love"
"Blackbird"
"Blowin' In The Wind"
"The Boxer"
"Catch The Wind"
"Change The World"
"Crazy Little Thing Called Love"
"Crazy On You"
"Dance With Me"
"Daughter"
"Daydream"
"Do You Believe In Magic"
"Dust In The Wind"
"Every Rose Has Its Thorn"
"Fast Car"
"Fields Of Gold"
"Fooling Yourself (The Angry Young Man)"
"Free Fallin'"
"Give A Little Bit"
"Have You Ever Seen The Rain?"
"Help Me Make It Through The Night"
"Helplessly Hoping"
"Homeward Bound"
"I'd Love To Change The World"
"If It Makes You Happy"
"Iris"
"Jack And Diane"
"The Joker"
"Landslide"
"Leader Of The Band"
"Leaving On A Jet Plane"
"Like The Way I Do"
"The Magic Bus"
"Me And Bobby McGee"
"More Than A Feeling"
"More Than Words"
"Night Moves"
"Norwegian Wood (This Bird Has Flown)"
"Our House"
"Put Your Hand In The Hand"
"Run Around"
"Show Me The Way"
"Signs"
"Silent Lucidity"
"(Sittin' On) The Dock Of The Bay"
"Somebody To Love"
"Space Oddity"
"Suite: Judy Blue Eyes"
"Sweet Talkin' Woman"
"Teach Your Children"
"Thick As A Brick"
"Time For Me To Fly"
"Time In A Bottle"
"To Be With You"
"Wake Up Little Susie"
"Wanted Dead Or Alive"
"Wonderwall"
"Working Class Hero"
"The World I Know"
"You Were Meant For Me"
"You're In My Heart"
"You've Got A Friend"
Features
176 pages
Width: 9.0"
Length: 12.0"
ISBN: 9781423467724