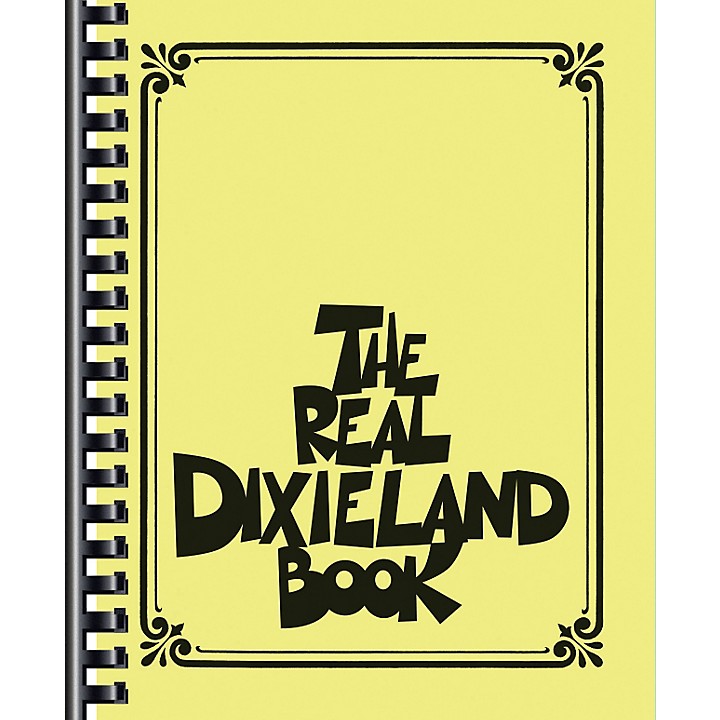 You don't have to be from below the Mason-Dixon line to enjoy this primo collection of nearly 250 Dixieland tunes.


Since the 1970s, The Real Book has been the most popular book for gigging jazz musicians. The Real Dixieland Book fake book keeps this tradition going with a slant towards music you'd traditionally hear in the South. It features pver 250 time-tested songs in accurate arrangements in the famous easy-to-read, hand-written notation and comb-binding style of it's predecessor. This book was put together for those who play C instruments.

Song List:
"Ace In The Hole"
"After You've Gone"
"Ain't Misbehavin'"
"Ain't She Sweet"
"Alabama Jubilee
"Alabamy Bound"
"The Alcoholic Blues"
"Alexander's Ragtime Band"
"Alice Blue Gown"
"All By Myself"
"Angry"
"As Long As I Live"
"At A Georgia Camp Meeting"
"At Sundown"
"Aunt Hagar's Blues"
"Avalon"
"Baby Face"
"Baby, Won't You Please Come Home"
"Back In Your Own Backyard"
"Ballin' The Jack"
"Basin Street Blues"
"Beale Street Blues"
"Bei Mir Bist Du Schon (Means That You're Grand)"
"Between The Devil And The Deep Blue Sea"
"Bill Bailey, Won't You Please Come Home"
"The Birth Of The Blues"
"(What Did I Do To Be So) Black And Blue"
"Black Bottom Stomp"
"Blue And Broken Hearted"
"The Blue Room"
"Blue Skies"
"Blue Turning Grey Over You"
"Blues My Naughty Sweetie Gave To Me"
"Bluin' The Blues"
"Borneo"
"Breezin' Along With The Breeze"
"By And By"
"Bye Bye Blues"
"Cake Walking Babies From Home"
"California, Here I Come"
"Canal Street Blues"
"Careless Love
"Chicago Breakdown (Stratford Hunch)"
"Chicago (That Toddlin' Town)"
"Chimes Blues"
"China Boy"
"Chinatown, My Chinatown"
"Clarinet Marmalade"
"Come Back Sweet Papa"
"Copenhagen"
"Cornet Chop Suey"
"A Cottage For Sale"
"Crazy Rhythm"
"The Curse Of An Aching Heart"
"Dangerous Blues"
"Dardanella"
"The Darktown Strutters' Ball"
"Dear Old Southland"
"'Deed I Do"
"Dig-A-Dig-A-Doo"
"Dill Pickles"
"Dinah"
"Dippermouth Blues"
"Do You Know What It Means To Miss New Orleans"
"Doctor Jazz"
"Don't Get Around Much Anymore"
"Down By The Riverside"
"Down Home Rag"
"Down In Jungle Town"
"East St. Louis Toodle-oo"
"Everybody Loves My Baby (But My Baby Don't Love Nobody But Me)"
"Exactly Like You"
"Farewell Blues"
"The Fish Man (Le Marchand De Poissons)"
"Five Foot Two, Eyes Of Blue (Has Anybody Seen My Girl?)"
"Floatin' Down To Cotton Town"
"Gee Baby, Ain't I Good To You"
"Georgia On My Mind"
"A Good Man Is Hard To Find"
"Goodbye"
"Grandpa's Spells"
"Grizzly Bear"
"Hard Hearted Hannah (The Vamp Of Savannah)"
"Heebie Jeebies"
"High Society"
"Hindustan"
"Home (When Shadows Fall)"
"Honeysuckle Rose"
"Hotter Than That"
"A Hundred Years From Today"
"I Ain't Gonna Give Nobody None O' This Jelly Roll"
"I Can't Believe That You're In Love With Me"
"I Can't Give You Anything But Love"
"I Gotta Right To Sing The Blues"
"I Never Knew"
"I Never Knew (I Could Love Anybody Like I'm Loving You) (Je Ne Savais Pas)"
"I Want A Big Butter And Egg Man"
"I Wish I Could Shimmy Like My Sister Kate"
"I'm Confessin' (That I Love You)"
"I'm Crazy 'Bout My Baby (And My Baby's Crazy 'Bout Me)"
"I'm Gonna Sit Right Down And Write Myself A Letter"
"I'm Gonna Stomp Mr. Henry Lee"
"I've Found A New Baby (I Found A New Baby)"
"I've Got A Feeling I'm Falling"
"Ida, Sweet As Apple Cider"
"In A Shanty In Old Shanty Town"
"Indiana (Back Home Again In Indiana)"
"Irish Black Bottom"
"Is It True What They Say About Dixie"
"It All Depends On You"
"It Don't Mean A Thing (If It Ain't Got That Swing)"
"Ja-Da"
"The Japanese Sandman"
"The Jazz-Me Blues"
"Jelly Roll Blues"
"Jitterbug Waltz"
"Johnson Rag"
"Jubilee"
"June Night"
"Just A Closer Walk With Thee"
"Kansas City Stomp"
"Keepin' Out Of Mischief Now"
"King Porter Stomp"
"Lazy River"
"Lazybones"
"Life Is Just A Bowl Of Cherries"
"Limehouse Blues"
"Linger Awhile"
"Livery Stable Blues (Barnyard Blues)"
"The Lonesome Road"
"Louisiana"
"Love Is Just Around The Corner"
"The Love Nest"
"Mahogany Hall Stomp"
"Makin' Whoopee!"
"Mandy"
"Mandy Make Up Your Mind"
"Maple Leaf Rag"
"Margie"
"Mean To Me"
"Memories Of You"
"Memphis Blues"
"Midnight In Moscow"
"The Minor Drag (The Dragster Drag)"
"Mississippi Mud"
"Muskrat Ramble"
"My Baby Just Cares For Me"
"My Blue Heaven"
"My Buddy"
"My Gal Sal"
"My Honey's Loving Arms"
"My Melancholy Baby"
"My Monday Date"
"Nagasaki"
"New Orleans"
"Nobody Knows You When You're Down And Out"
"Nobody's Sweetheart"
"Oh By Jingo! Oh By Gee! You're The Only Girl For Me"
"Oh! Didn't He Ramble"
"On The Alamo"
"Oriental Strut"
"Original Dixieland One-Step"
"Ory's Creole Trombone"
"Paddlin' Madelin' Home"
"Palesteena"
"Panama"
"The Pearls"
"Peg O' My Heart"
"Petite Fleur (Little Flower)"
"Please"
"Poor Butterfly"
"Potato Head Blues"
"Pretty Baby"
"P.S. I Love You"
"Puttin' On The Ritz"
"Red Sails In The Sunset"
"Riverboat Shuffle"
"Rockin' Chair"
"Rose Of Washington Square"
"Rose Room"
"Roses Of Picardy"
"Rosetta"
"Royal Garden Blues"
"Runnin' Wild"
"Sailing Down The Chesapeake Bay"
"Saint James Infirmary"
"St. Louis Blues"
"San"
"Shake That Thing"
"She's Funny That Way"
"The Sheik Of Araby"
"Shine"
"Shreveport Stomps"
"Sidewalk Blues"
"Singin' The Blues Till My Daddy Comes Home"
"Smile"
"Smiles"
"Some Of These Days"
"Somebody Loves Me"
"Somebody Stole My Gal"
"Someday You'll Be Sorry"
"South"
"Squeeze Me"
"Stealin' Apples"
"Stompin' At The Savoy"
"Strut Miss Lizzie"
"Struttin' With Some Barbecue"
"S'posin'"
"Sweet Sue-Just You"
"Swing That Music"
"Tain't Nobody's Biz-ness If I Do"
"That Da-Da Strain"
"That's A Plenty"
"There'll Be Some Changes Made"
"There'll Come A Time When You'll Need Me"
"Thou Swell"
"Three Little Words"
"Tiger Rag (Hold That Tiger)"
"Tin Roof Blues"
"Tishomingo Blues"
"Tuck Me To Sleep In My Old Tucky Home"
"Twelfth Street Rag"
"Undecided"
"Wabash Blues"
"Walkin' My Baby Back Home"
"The Wang Wang Blues"
"Washington And Lee Swing"
"Way Down Yonder In New Orleans"
"Weary Blues"
"West End Blues"
"What Can I Say After I Say I'm Sorry"
"When It's Sleepy Time Down South"
"When My Baby Smiles At Me"
"When My Sugar Walks Down The Street"
"When The Saints Go Marching In"
"When You're Smiling (The Whole World Smiles With You)"
"Where Did Robinson Crusoe Go With Friday On Saturday Night?"
"Whispering"
"Wild Cherries"
"Wolverine Blues"
"The World Is Waiting For The Sunrise"
"Wrap Your Troubles In Dreams (And Dream Your Troubles Away)"
"Yellow Dog Blues"
"You Always Hurt The One You Love"
"You Can Depend On Me"
"You Took Advantage Of Me"
"You're The Cream In My Coffee"
Features
For C Instruments
ISBN: 9781423476948
Width: 8.5 in.
Length: 11 in.
380 pages