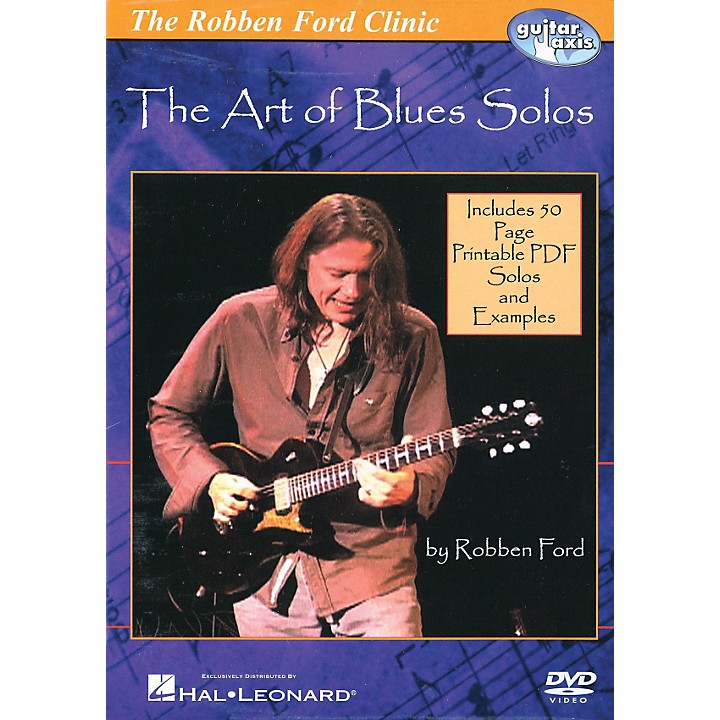 Watch and learn signature blues solo licks of this legendary guitarist.
Robben Ford is simply one of the most emulated modern blues players of our time. In this DVD, his impeccable soloing techniques and tasty phrasing are brought to the forefront. You'll learn dozens of Robben's favorite phrases as he plays several tunes loaded with classic Ford riffs. Robben also answers questions about theory, style, recording, technique, influences, and using altered scales. The video features a live performance of Robben's "Cannonball Shuffle" where you can cop every lick as his burning solo is shown in real time and in slow motion. Includes a 50-page printable PDF file with solos and examples. All songs are transcribed in music and guitar tablature.

Robben Ford has played guitar for Charlie Musselwhite, Jimmy Witherspoon, George Harrison, Joni Mitchell, the Yellowjackets, Miles Davis, Greg Allman, and Phil Lesh. He has also maintained a prolific solo career, has received nominations for four Grammy Awards, and was named one of the "100 Greatest Guitarists of the 20th Century" by Musician magazine.
Specifications
Artist: Robben Ford
Running time: 1 hour, 48 minutes
Series: Instructional/Guitar/DVD
Publisher: Guitar Axis
Medium: DVD
ISBN: 1423469283
5"W x 8"L