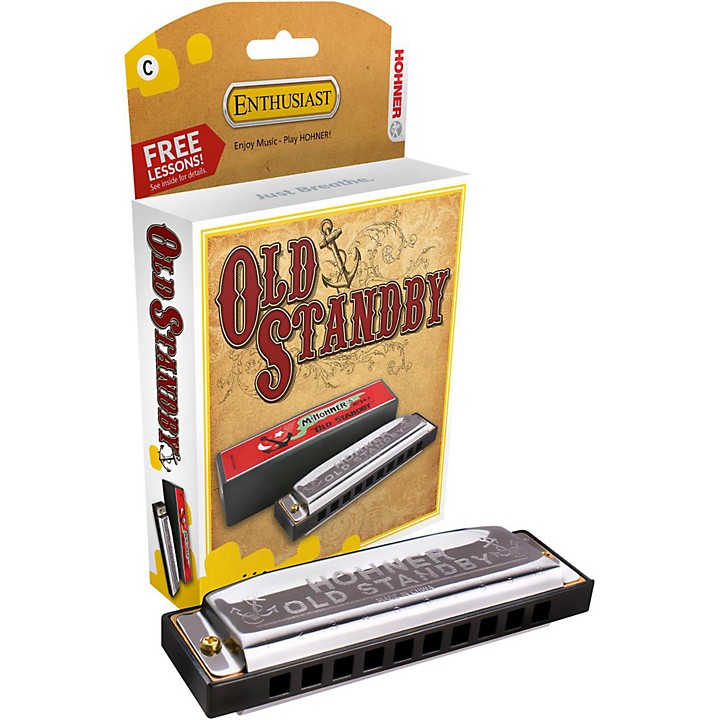 Your faithful friend and the anchor of your musical soul.
The Old Standby Harmonica from Hohner delivers timeless tone and durable construction. Whether you're just learning, or an experienced player wanting a familiar friend, this harp is ideal for blues, country, rock and folk. Its classic design and anchor logo are as iconic as the sounds it creates. For 150 years, Hohner has set the standard for quality diatonic harmonicas—and this model shows why.


Built to Last Through Years of Jam Sessions
The Old Standby lives up to its name with components designed for longevity. Its reeds are made of brass rather than steel, for a warmer, more resonant tone that stands up to frequent playing. The comb uses durable plastic, with 10 holes and 20 reeds in the familiar diatonic pattern. The airtight design and stainless steel covers are built to endure years of regular use. For players wanting an instrument they can rely on, the Old Standby delivers.


A Perfect First Harp or Lifelong Sidekick
Beginners will appreciate the Old Standby's straightforward design and familiar Richter layout. Yet its durable build and full-bodied tone have also made it a longtime favorite of professionals. Whether you're riding high or singing the blues, this 4" harp can get you through the day. For players wanting a simplistic, soulful instrument they can keep for years, the Old Standby Harmonica delivers a perfect balance of longevity and musicality.


Iconic Style and Accessories
The Old Standby's plated covers feature Hohner's iconic anchor logo, hinting at its seaworthy durability. It includes a protective plastic case for storage and transport between performances or practice sessions. For an instrument with time-tested construction and tone, all backed by a trusted name in harmonicas, look no further than the Old Standby.