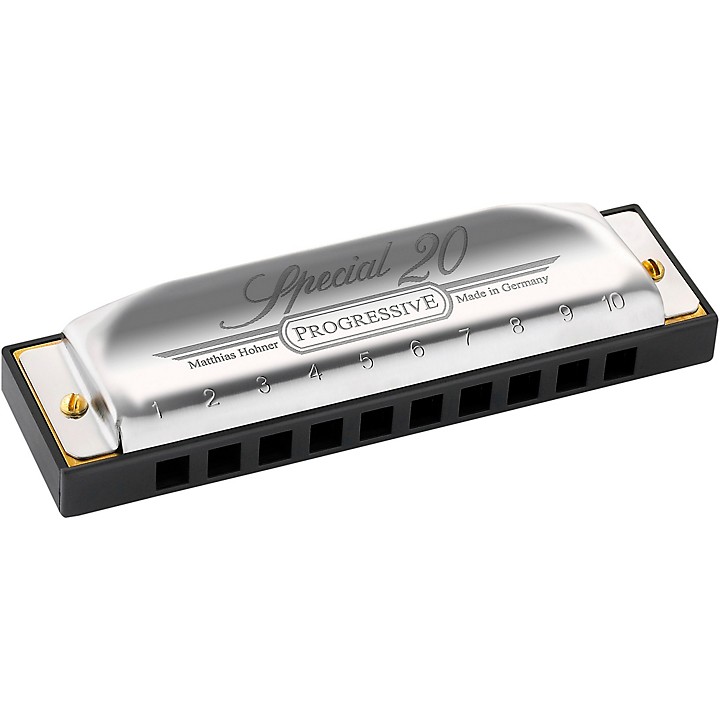 A legendary harp.
The Progressive Series 560 Special 20 Harmonica is a trailblazer that started it all. The first diatonic harmonica with recessed reed plates, its innovative design provides an unparalleled playing experience and beautiful sound. Musicians of all skill levels will appreciate its smooth and comfortable ABS plastic mouthpiece, as well as its distinctive mellow tone that works for everything from folk and country to rock and pop. If you're looking for a harmonica to take you from your first lessons all the way to the stage, the Special 20 is the only choice.


Recessed Reed Plates Enable Smoother Play
The Special 20's reed plates are recessed into the comb, creating a projecting plastic mouthpiece that is more ergonomic and comfortable to play compared to traditional harmonicas. This revolutionary design has made it the most imitated harmonica worldwide, but none can match the original. The recessed reed plates, combined with high-quality 0.9 mm brass reeds, produce full, clean single notes as well as rich chords.


Distinctive Tone Perfect for All Musical Styles
With its recessed reed plates and brass reeds, the Special 20 offers a beautifully mellow and resonant tone that works for all genres of music. Its tuning provides single notes as well as full, ringing chords that blend perfectly whether you're playing folk, country, rock, or pop.


High-Quality Components Built to Last
From its stainless steel cover plates to its durable ABS comb, the Special 20 is constructed from premium materials designed to withstand years of regular use and travel. It includes 20 brass reeds, with reed plates and reeds that are securely mounted to prevent air leaks and provide consistent performance over time. The Special 20's components are meticulously assembled and tested to ensure an airtight seal and optimal playability out of the box and long into the future.


Perfect for Players of All Levels
With its revolutionary and imitated design, the Special 20 offers an unparalleled playing experience for musicians of any ability. Its recessed mouthpiece and smooth tone make it ideal for beginners to learn proper technique and produce full, clean single notes right away. At the same time, its high-quality components and versatile sound provide professional harpists with an instrument able to keep up with their developing skills. The Special 20 will take you through your first lessons and onto stages around the world.


Specifications
Type: diatonic
Ttuning: Richter
Number of holes: 10
Reeds: 20 brass
Cover surface: stainless steel
Reed plates: 0,9 mm brass
Reed plate: surface brass
Mouthpiece: surface ABS
Comb: ABS, black
Length: 10 cm
Features
German craftsmanship provides superior response, bendability and tone
Precision molded plastic comb for unmatched comfort and durability
Recessed reed plates and airtight designfor consistently excellent performance