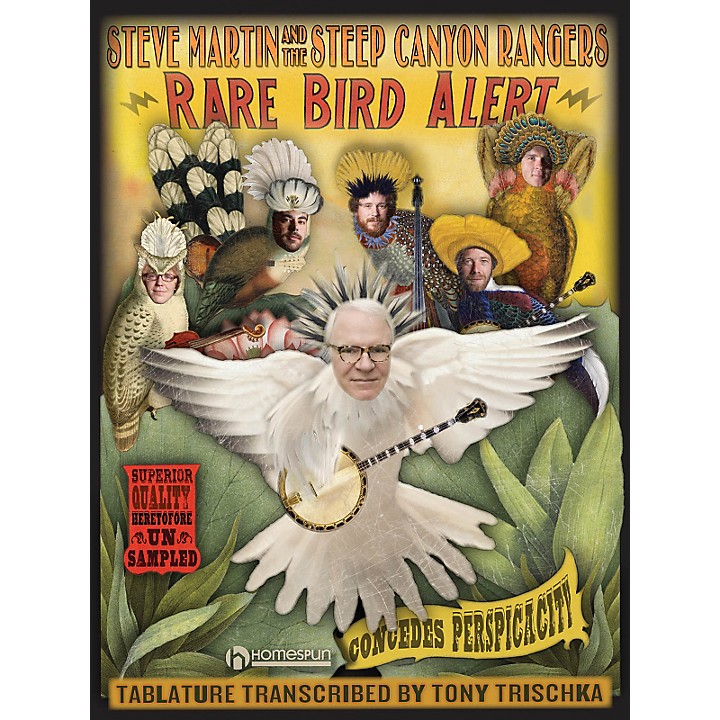 Perfect for fans of Steve Martin and the banjo alike.
Steve Martin's latest CD, "Rare Bird Alert," has received raves from critics, fans and players alike. His thirteen songs and sparkling banjo solos, in both clawhammer and three-finger picking styles, are whimsical and fun-filled, always beautifully crafted and superbly played by Steve and his band, the Steep Canyon Rangers.

This new book features transcriptions for all twelve banjo songs on the CD, plus the four-part, a cappella pseudo-gospel number, Atheists Don't Have No Songs. (Lyrics are included for all songs.) Banjo players can learn the instrumental parts, and brief instructions for playing each tune are written by Steve himself. Tony Trischka has brilliantly transcribed every banjo note played on the CD.

Songs: Rare Bird Alert; Yellow-Backed Fly; Best Love; Northern Island; Go Away, Stop, Turn Around, Come Back; Jubilation Day; More Bad Weather On The Way; You; The Great Remember (For Nancy); Women Like to Slow Dance; Hide Behind a Rock; Atheists Don't Have No Songs; King Tut.