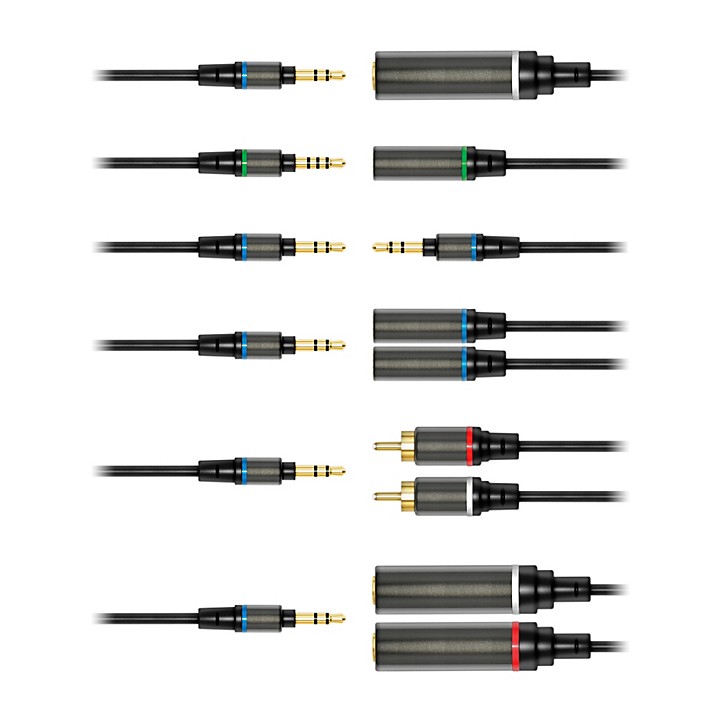 1/8 (3.5mm) stereo male to 1/4 (6.35mm) mono female.
Designed for pure audiophile sound, all iLine cables are made in Italy from high-quality components including 24K gold-plated connectors, high-purity copper conductors (you know, the "super-conductor" kind that doesn't oxidize), high-density shielding to protect against foreign sound particles, and low-capacitance insulation for transient preservation. This combination of components gives you the best possible signal transmission for pure quality sound. The device connectors are also smartly designed to fit your smartphone case without being disconnected, and are color-coded for quick and easy identification of their functionality.

Mono Output Adapter
This cable converts 1/8" (3.5mm) stereo output to 1/4" (6.35mm) mono signal. Use this to send your stereo output from your device into a mono input device like a guitar amplifier or a mono-input powered speaker. Use it to connect your iRig and AmpliTube setup on your device to your guitar amplifier. It features a 3.5mm (1/8") male connector and a 1/4" (6.35mm) mono female connector. (Use your standard 1/4" guitar or speaker cable to complete the connection.) Length: 11.8" (30cm).

Features
24K gold-plated connectors for maximum connectivity in all environments
High-purity copper conductors for the best-quality signal transfer
Low-capacitance insulation to preserve transients
High-density shielding to guard against EMI
Made in Italy
Compatible with smartphones, tablets, laptops, desktops and most high-end audio equipment