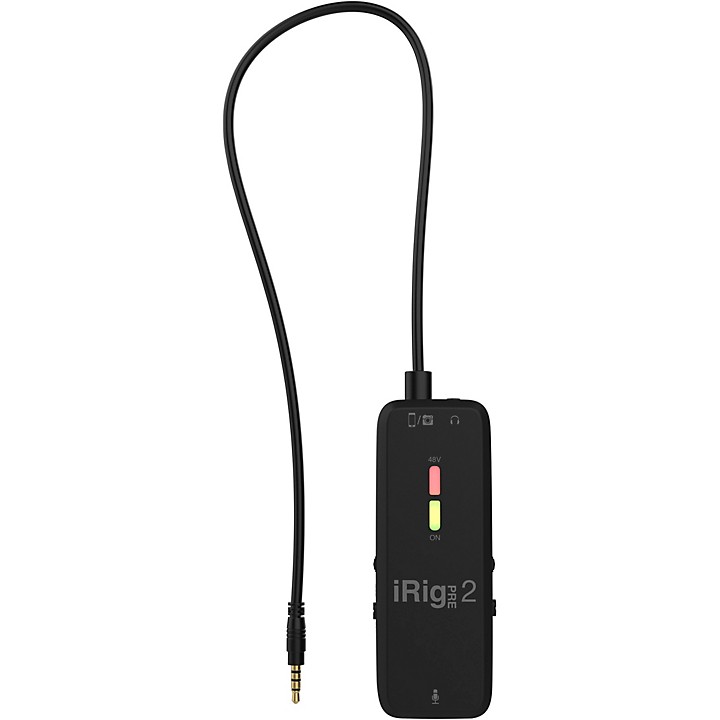 A pocket-sized mic preamp with pro sound.
iRig Pre 2 is a pocket-sized mic preamp that lets you easily use your XLR mics to record, perform and stream with your iPhone, iPad, Android device or DSLR camera. The sequel to the best-selling mobile mic pre of all time, iRig Pre 2 delivers the same professional sound you're accustomed to, while adding direct monitoring, auto-switching wiring for use with digital cameras, and so much more.

With true +48V phantom power for use with condenser mics, up to 30 hours operation time on 2 x AA batteries (8 hours with phantom power) and a direct monitoring switch to ensure you never miss a take due to poor sound quality, iRig Pre 2 makes it easy to capture stunning sound quality on all your devices in any situation.

How it works
Insert the battery and connect iRig Pre 2 to your device (both mobile or camera). Connect your microphone, set its level with the gain thumbwheel; connect a pair of headphones and adjust its level (you can also enable the direct monitor feature), launch your favorite recording app and you are ready to record.
Specifications
Size
40 mm/1.57" x 110 mm/4.33" x 34 mm/1.34"
Weight
75 g/2.65 oz. (batteries excluded)
Cable length
Features
Enclosure design with soft-touch exterior
Also connects to DSLR cameras with 3.5 mm/1/8" input
Headphone out volume control
Direct monitoring (switchable on/off)
Numbered thumbwheels for precise level adjustment
2xAA batteries (included)