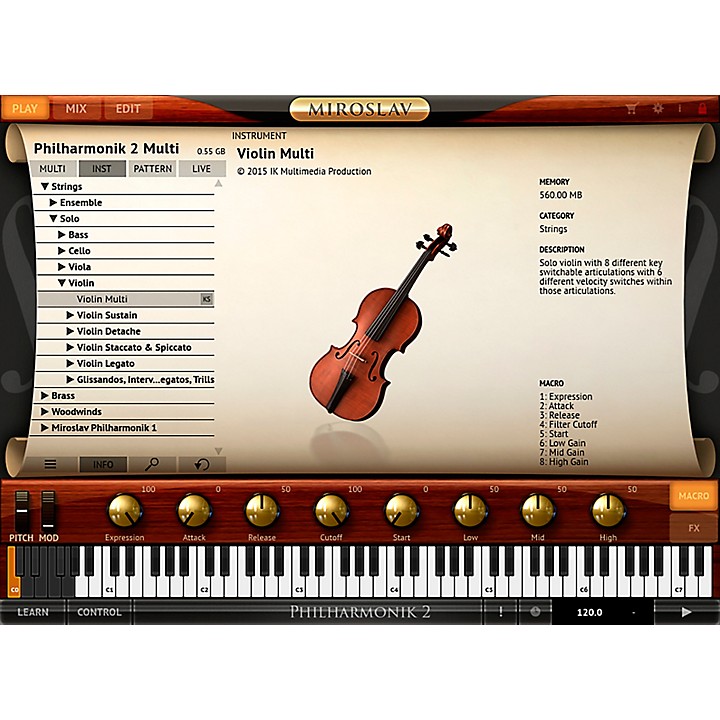 Masterfully recorded symphonic collection.
Strings that soar, woodwinds that dance, brass that commands, and a full symphony orchestra of sounds at your fingertips — all expertly performed with musical articulations for real music played by real musicians.
Miroslav Philharmonik 2 is a sweeping vision from a master artist embodied in a new virtual instrument that brings the orchestra to life. It's not enough to just have good recordings of classical instruments. For a true symphonic experience, you need instruments performed by the absolute best musicians, articulated in just the right way, directed by a producer and conductor who know the fine art of making living, breathing samples.
Miroslav Vitous pioneered the concept of a complete symphonic sample library for real composers, and now he has taken it to the next level.
And it's only possible because of its truly unique sound set. Unlike other libraries, its samples and sounds don't just recreate dry instruments. Instead, Miroslav Philharmonik 2 turns you into a master conductor in control of a full symphony orchestra staffed by living, breathing human beings. So when you call on an instrument to play, you won't just hear a note — you'll hear all the passion, pain, joy, suffering and excitement of the musician playing that note. And you'll get it immediately (no processing required). And that's why Miroslav Philharmonik 2 is such a revolutionary orchestral collection.

Masterfully recorded
Made in collaboration with legendary jazz bassist and sampling visionary, Miroslav Vitous, Miroslav Philharmonik 2 gives you a over 58GB sound library with over 2,700 instruments sampled in glorious high-definition audio. Every instrument fits — they are made to play together and made to stand alone. There are delicate strings, colorful woodwinds and majestic brass as well as brand new concert grand piano, harpsichord, orchestral chimes, marimba, vibraphone and glockenspiel sounds plus enhanced versions of the instruments in the original libraryEach of its instruments features multiple musical articulations played by real musicians with the kind of "live" feeling that only a master conductor can provoke. From flowing legatos to animated pizzicatos, from aggressive spiccatos to elegant staccatos and from the subtlest pianissimo to the most triumphant fortissimo, Miroslav Philharmonik 2 gives you the power to draw raw musical feeling and emotion from every note.

Miroslav Philharmonik 2 provides fantastic solo and ensemble string, brass, woodwind, keyboards, percussion and other instruments in stunning high-resolution sound. Its easy-to-use articulations and full spread of over 30 high-quality effects and many advanced features — derived from SampleTank 3 and T-RackS — provide unmatched sonic sculpting capability that makes it as great a choice for your next classical arrangement or film score as it is for your next hip-hop song or metal ballad. Finally, all the humanity, passion and acoustic grandeur of a real symphony orchestra is available in one convenient, affordable and easy-to-use package. Spectacular sound
Miroslav Philharmonik 2 also contains all of the samples from the original Miroslav Philharmonik virtual instrument that provide additional strings, brass and windwinds but also choir, keyboard instruments, chromatic instruments and percussion. And, no matter whether a new addition or an old favorite, every single instrument included in Miroslav Philharmonik 2 is SampleTank 3 compatible. This allows for seamless integration into your existing SampleTank music production workflow. You can play Miroslav Philharmonik 2 as an instrument collection inside SampleTank 3 with no additional installation or conversion.
Effortless articulation
Each instrument type starts with one go-to instrument — a master key switching instrument — that most composers will reach for when building their compositions and arrangements. This instrument contains all of the most used articulations for the instrument type for use in a single part with all its articulations instantly accessible from the keyboard so you can switch articulations on the fly — from sustained to detache, staccato, legato, pizzicato or any number of other musical articulations without leaving the main instrument or needing to load individual articulations. (Of course, all the individual articulations are also available as separate additional instruments for composers who prefer to work that way instead!). The mallet instruments have been recorded using different types of mallets to give you more tonal flexibility. The piano's soundboard has been modeled to allow for an amazing playing experience with stunning acoustic realism.
Processing
You get 5 equalizers, 4 dynamic processors, 7 filtering and special processors, 9 modulation effects and 9 reverb and delay effects. Versatile, powerful and easy-to-use (a recurring theme, we're sure you'll agree), these effects let you create professional, broadcast-quality productions straight inside Miroslav Philharmonik 2 itself — no additional processing necessary! 3D Room Visualization – the ConvoRoom
Immerse yourself in real symphonic spaces. Miroslav Philharmonik 2's ConvoRoom convolution reverb lets you quickly and easily switch the acoustic space that your symphony is playing in. It now also comes with a brand new virtual room GUI that gives you a visual representation of the physical space that will help to immerse you in the sound and connect you with your orchestra's environment beyond mere instrument icons.
Miroslav Philhamonik 2 is more than just an instrument; it's a full-featured symphonic workstation. It comes with its own built-in DAW. Explore its Mix tab and you'll find the familiar interface of a DAW mixer that comes complete with console-style channel strips as well as 4 stereo FX returns and a complete master fader, all with 5 insert effect slots each.
Miroslav Philharmonik 2 is based on SampleTank 3 technology. This means that you can use it on its own as a standalone instrument or as an additional instrument collection inside of the SampleTank 3 sound and groove workstation itself — perfect for those more complicated scores and productions that require sounds pulled from SampleTank 3's massive and expanding universe of sounds.
Specifications
System Requirements
Miroslav Philharmonik 2 is a 64-bit application and requires a 64 bit CPU and Operating System.
Mac® (64-bits)
Minimal: Intel® Core™ 2 Duo, 4 GB of RAM (8 GB suggested), Mac OS X 10.7 or later. 58 GB of hard drive space.
Supported Plug-in formats (64-bit): Audio Units, VST 2, VST 3, AAX.
Windows® (64-bits)
Minimal: Intel® Core™ 2 Duo or AMD Athlon™ 64 X2, 4 GB of RAM (8 GB suggested), Windows® 7, Windows® 8 or Windows® 10. 58 GB of hard drive space. Requires an ASIO compatible sound card.
Supported Plug-in formats (64-bit): VST 2, VST 3, AAX.
Features
Over 58GB of 24-bit / 96kHz high-definition samples
Includes the complete original Miroslav Philharmonik sound library optimized for more control with articulation switching and enhanced macros
Recorded and produced by jazz legend Miroslav Vitous
Over 2,700 stereo instruments that cover the complete orchestral spectrum and more
Multiple articulations per instrument with articulation switching
Comes with ConvoRoom convolution reverb with 3D GUI
34 high-quality studio effects from SampleTank 3
4 professional-grade mastering processors from T-RackS
Multi-channel mixer-like Mix interface with 16 channels and 4 insert effects per channel, 4 stereo effect returns (with 5 insert effects each) and a master channel with 5 insert effects
Access to the powerful instrument Edit page with 3 sample engines (including formant preserving pitch-shifting and time-stretching engines), 10 filter types and 8 macro controls per instrument for quick multi-parameter editing
Based on SampleTank 3's powerful 64-bit engine
Recorded at CNSO Studios in Prague