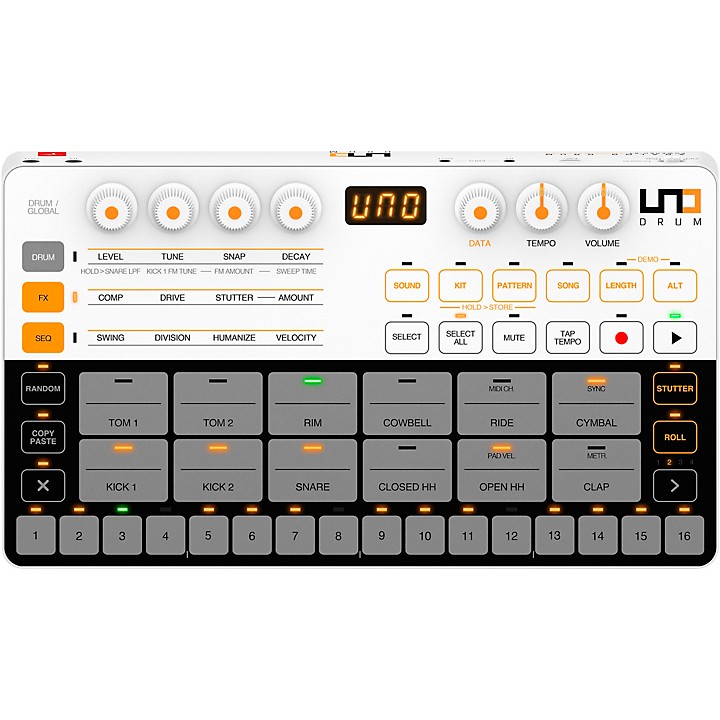 Highly portable drum machine, with 6 analog and 54 PCM drum sounds.
Designed in collaboration with Italian analog specialist Soundmachines—the same team behind IK's acclaimed UNO Synth—UNO Drum offers a wide sonic palette combining fat, punchy analog sounds with digital flexibility and convenience. A robust selection of programming and live performance features and controls make it easy for musicians, producers and DJs to add massive drum grooves to their music. UNO Drum's compact form, battery power and affordable price make it ideal for on-the-go music creation and performance.

True analog tone and PCM flexibility
Six warm, rich, true analog drum sounds—two different kick drums plus snares, claps and hi-hats—form the core kit for creating fat analog beats. Additional PCM elements (with 54 samples to choose from) provide deeper sonic flavors. They include toms, rims, cowbells, rides and crash cymbals for creating complex, unique and full rhythm tracks. Up to 12 elements can be used in total between analog and digital sounds, with 11-voice polyphony available. The analog and digital elements can be freely swapped, adding sonic possibilities that go beyond the pre-set combinations. Together, these analog and PCM sounds suit the widest genres of music and musicians in a wide variety of live scenarios.

Drum elements are organized in UNO Drum's 100 pre-programmed and fully editable drum kit presets. This makes it easier and faster for users to find an inspiring kit they can experiment with or tweak to create the perfect groove. All sounds can be stored and recalled on the fly.

Top panel editing controls allow for adjustment of key parameters of each sound element. Users can tweak the Tuning parameter of their kicks for sub-shaking hip-hop, adjust the Snap for punchy EDM drums, push the Decay for thundering industrial sounds, and much more. UNO Drum's in-depth controls encourage experimentation.

Analog audio effects with character
For added punch and character that stands out in a mix, UNO Drum also offers two analog master audio effects: Drive and Compressor. Increasing the drive will make grooves hit harder. Adding compression will result in tracks that are tighter, fatter and more powerful. User settings can be saved along with drum kits for instant recall.

Easy to play and program
UNO Drum offers 12 touch-sensitive pads with two velocity zones for more expressive live playing and easier programming. They can be used to play entire beats live with a pad-style feel, or to add live flare on top of pre-programmed rhythms.

These pads are also used to select individual drum pattern elements. Each element's pad can be used to edit parameters for that specific drum sound in real-time as patterns play. This enables users to build tension toward a drop, go lo-fi for a break and more. For added performance convenience, a dedicated Tap Tempo pad is also included.

Flexible programming options
UNO Drum offers easy programming options to suit any style. The 64-step sequencer allows users to program patterns one step at a time using the 16 buttons across the bottom of the panel, or record a pattern in real time. Up to eight parameters can be automated per step to add even more variation and feel to their grooves. The Song mode lets users chain up to 64 patterns together to create extended grooves. Any of the stored sequences can be triggered live on the fly, in any order desired.

For quick inspiration out of the box, UNO Drum also comes pre-loaded with 100 drum patterns (in addition to the 100 drum kits). Users can quickly scroll through choices and find a pattern that adds the perfect flavor to their genre, or experiment with new styles. Sounds can be swapped out or adjusted, and patterns can be instantly saved and revisited at a later time.

For even more performance impact, UNO Drum offers a generous set of five performance effects on the programmed patterns: Stutter (from subtle repetitions to DJ style loops), Roll, Humanize (slight randomization of velocity, timing and volume to emulate a live drummer), Swing (timing and accent adjustments) and Random (brand new pattern creations).

Integrate into any live, studio or mobile setup
For use at home, in the studio, in a DJ booth, and beyond, UNO Drum can perfectly integrate into regular live set-ups, computer DAW-based studios, or mobile rigs centered around an iOS device. It offers USB and traditional MIDI via 2.5 mm jacks (cables included) for use with Mac/PC, iOS devices or traditional outboard MIDI gear, for a perfect pairing in any rig. UNO Drum also offers an audio input to daisy chain directly with IK's UNO Synth or any other gear, routed through its internal compressor, with no need for an additional mixer.

UNO Drum weighs less than a pound and is small enough to fit in a backpack, but it is sturdy enough to hit the road for gigging. It can also be used as a sketchpad to create grooves and songs that can be saved and recalled whenever and wherever they're needed. UNO Drum can be powered by 4 AA batteries or via the USB port, either from a computer or a battery pack.
Specifications
Battery (4xAA) or USB bus powered
Height: 1.6"
Width: 9.8"
Depth: 5.5"
Features
Analog/PCM drum machine with complete digital control
Drum sounds: 6 analog/54 PCM
100 pattern presets
100 song presets
100 kit presets
Multi-touch live mixer
16-step sequencer for hits or any control parameters
Beat-sync delay FX
Built-in compressor