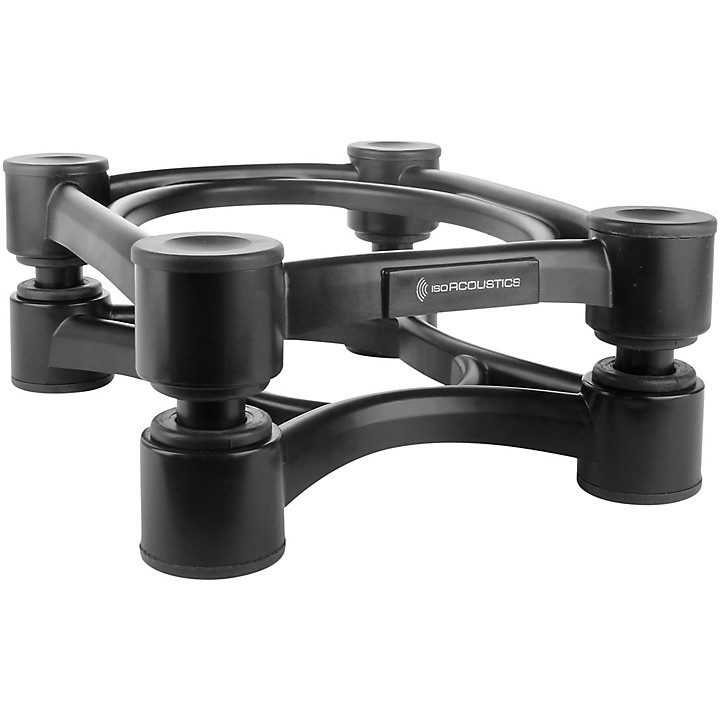 The best solution for isolating your sub.
Many modern monitor systems have subwoofers, especially if produce or mix bass-heavy music. Additionally, bass frequencies can really disrupt a mix if their energy is being transferred to support surfaces. The IsoAcoustics ISO-200Sub Acoustic Isolation Stands are now available for subwoofers used in professional studios, project studios and home theater settings. Like all the IsoAcoustics stand models, the ISO-200Sub is designed to clean up acoustic issues with the subwoofer, allowing the subwoofer to literally float with all movement on-axis, preventing the low frequencies from being driven into the supporting surface. You'll hear more punch and clarity from your subwoofer.

Measuring 7.8" wide by 10" deep and 4" high, with fixed height and tilt, the ISO-200 Sub is designed to accommodate most subwoofers, and can be used as a single unit, or combined with additional units for larger subwoofers. The ISO-200Sub features the same patented technology as the entire family of award-winning IsoAcoustics Acoustic Isolation Stands.
Features
Adjustable tilt
Increases clarity
Eliminates sympathetic vibrations
Tighter bass
7.8" x 10" x 3.75"
Max Weight: 75lb