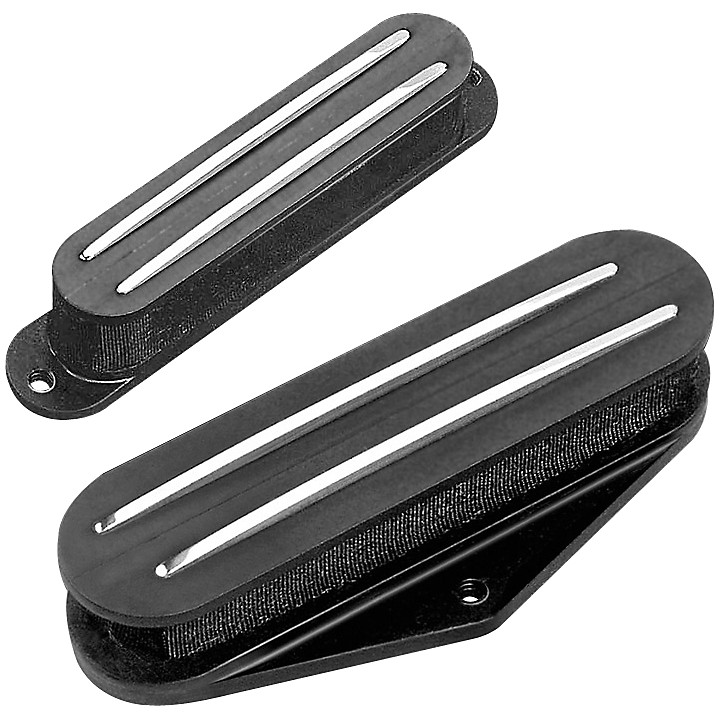 Particularly suited for today's modern country and rock styles at the bridge and vintage character with expanded fidelity at the neck.
This Joe Barden Modern T-Style Tele Pickup Set consists of a Modern T-Bridge pickup and a Gatton T-Neck pickup. This is a great pickup combination for adding volume, tone and bite to your favorite Tele.

Modern T Bridge Pickup
The Modern T bridge offers a darker more aggressive tone and feel. It was originally designed for a leading artist who wanted more beef in the bridge position of his Tele. The Modern T Set retains its pure Tele vibe, but with a bit more attitude for today's Modern Country and Rock styles.

The Modern T-Style is a bridge pickup variant only. The Gatton T-Style neck pickup remains unchanged and performs flawlessly with the new Modern T-Style winding in the bridge position.

Gatton T-Neck Pickup
The Danny Gatton T-Neck Tele Pickup is a dual blade T-Style pickup. It was inspired by Danny Gatton, one of best Tele guitarists to have lived. Danny wanted a new model of high-end replacement pickups as opposed to those that were merely variations on established designs or basic repair parts.

Originally designed for Danny (and with Danny testing every step of the way), they have become the first choice of professional Tele players worldwide. The tone of these pickups can be described as absolutely vintage in character, but with greatly expanded fidelity. The lows, mids and highs are all equal in strength, eliminating the thin or "tinny" sound that is often a problem with Tele-styled guitars.

The T-Neck is remarkable in that it can be adjusted so that its output is actually equal to the T-Bridge, thus solving the age-old Tele player's complaint: huge output differences between the bridge and neck pickups. While these pickups can be adjusted to greatly exceed the output level of stock pickups, the authentic Tele twang and snap is maintained, and any kind of noise, be it hum, hiss or squeal, is completely eliminated.

T-Style pickups fit standard Tele body routs and require no modifications to the instrument. They utilize 4-conductor shielded cable to allow for any possible wiring combination and are supplied with wiring diagrams and mounting hardware to facilitate installation.

Both pickups mate well together and can be balanced thru height adjustment to each player's preference. Like all JBE pickups there is no hum or noise and the pickups fit into any standard Tele body rout.
Features
Modern T Bridge Pickup
Heavier coil winding
Stronger tone and performance
Designed for modern country and rock styles
Fits standard Tele bridge pickup routs
Gatton T-Neck Pickup
Dual blade T-Style pickup
Vintage in character
Expanded fidelity
Authentic Tele twang and snap
Adjustable output
Eliminated noise
No modifications instrument