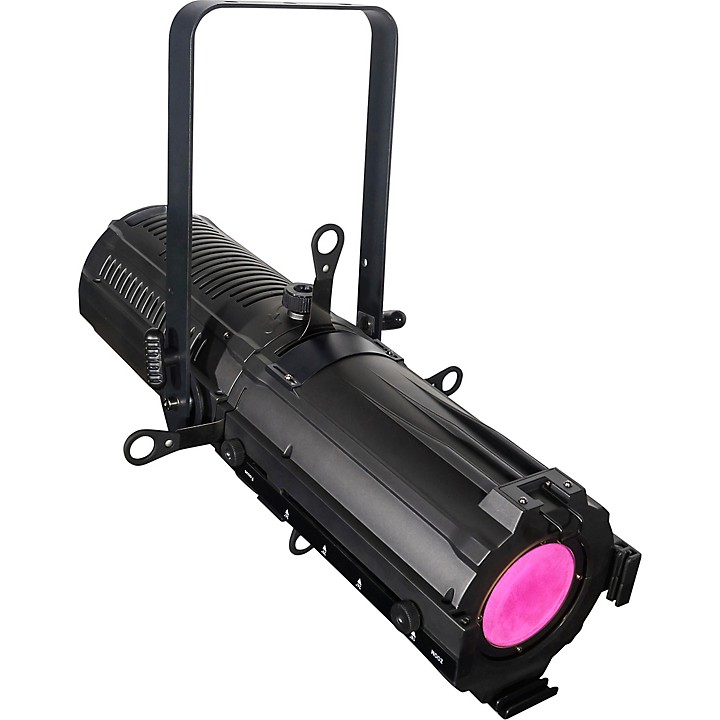 Upgrade traditional ellipsoidal fixtures with vivid, high output.
The Vision Profile 250Z RGBW from JMAZ Lighting is a unique, super high output ellipsoidal profile fixture. Powered by a high-power 250W QUAD (RGBW) LED, this fixture has a color range of 3000K~8000K, projecting a smooth even field of light with vivid saturates and subtle pastels by color mixing. Its high CRI (Color Rendering Index) of 91+ makes it ideal for television and film. With the inclusion of the zoom range of 18-38 degrees (manually adjustable) and 4-leaf framing system, you can control the shape and the location of where the light shines. The Vision Profile 250Z RGBW is light-weight, compact and includes a rotary, key and DMX dimmer control. Installation and patching is fast and easy with RDM protocol.
Specifications
General
Light source: 1 x 250W QUAD (RGBW) LED
Color temperature: 3000K~8000K
Color rendering index: CRI 91
Beam angle: Manual zoom from 18-38 degrees
Multi-voltage operation: 110-240V, 60Hz/60Hz
Onboard Features
Control: Master/slave, DMX in/through, standalone and RDM
Other
Width: 29.3 in.
Height: 11.6 in.
Depth: 11.6 in.
Weight: 19.2 lb.
Features
Smooth flicker free dimming with adjustable dimming curve
Aluminum housing
Lens barrel compatible with industry standard
Single yoke bracket