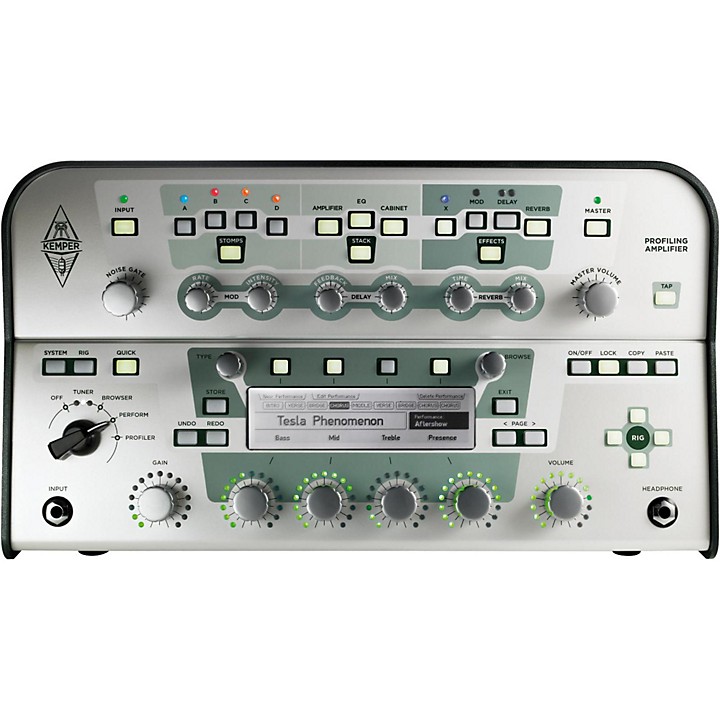 Any amp. Any time. Anywhere.
The Kemper Profiling Amplifier enables you to do what generations of guitar players have been waiting for: to capture the soul of all your amps (and so many more) inside a lunchbox-sized amplifier.

With cutting edge technology Kemper captures the sonic DNA of virtually any guitar amp for vivid and dynamic sound.

They were created by professional guitarists, engineers and producers in studios all over the world. Right out of the box, you will find classic tones of studio standards as well as profiles of highly sought-after amplifiers, some costing many times the price of the Profiling Amplifier. If you are looking for a particular sound, search the Rig Exchange database on our website, and download profiles and rigs from fellow users. You can also make your own profiles from your gear.

Kemper will be working tirelessly to create new profiles for you to download for free from their website as well. They employ the same techniques an engineer would use to create a great guitar tone in the studio, so you can be sure to receive authentic sounds from this digital guitar amp.

If you are tracking in a studio, you can profile the guitar amps that you record with. Later, you simply take these profiles with you and know that you can recreate the exact sound of the recording, both in rehearsal and live on stage.

Features
Play completely different amp models rather than just switching channels on stage
Create your own profiles from your own amps
Share your own creations
Find other user creations
Recreate any rig