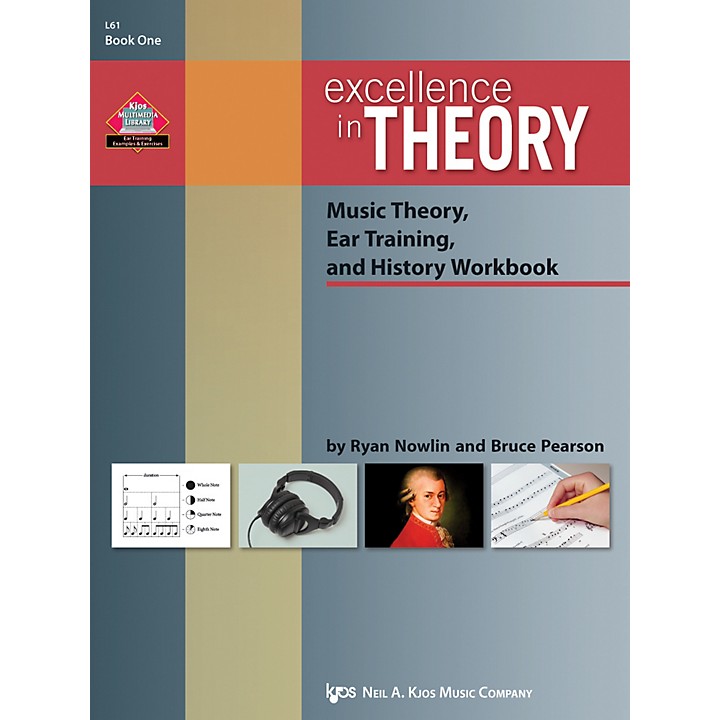 The Theory section of Excellence in Theory, Book One concentrates on learning the basic language of music that helps develop well-rounded musicians. Lesson & Assignment pages introduce staves, treble and bass clef. Time signatures, and simple rhythms. Melodic elements are presented in accidentals, enharmonics, and whole and half steps, as well as tetrachords and major scales. Each lesson is carefully reinforced through Review pages.

Ear Training pages are incorporated throughout the book, providing the listening tools and opportunities needed to put recently learned theory into practice. Listening examples and exercises accompany each of these pages, and are accessible for free to students and teachers through the Kjos Multimedia Library at www.kjos.com.

The History section of Book One broadens students' understanding of music by providing the historical context during each of the musical eras-from the Middle Ages through the 20th century-using text and full color images. Each reading assignment is followed by an assessment page with a timeline to help strengthen the learning process.

Specifications
10-digit ISBN Number: 0849705223
Media: Music Books
Level or Grade: 1
Series: ¢ Excellence in Theory