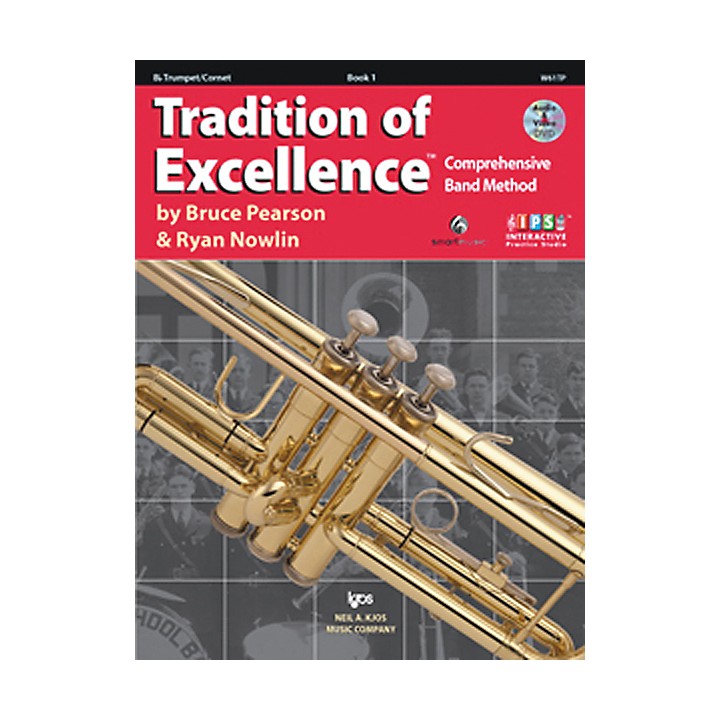 The Tradition of Excellence Book 1 for Trumpet is an innovative curriculum from the experts at Neil A. Kjos Music Company. Carefully crafted by master educators Bruce Pearson and Ryan Nowlin, this comprehensive method is tailored to engage today's students and accelerate learning. Packed with fun exercises, helpful tools, and memorable music, the Tradition of Excellence series inspires excellence in beginning performers.


Interactive Practice Studio Software Included

The Tradition of Excellence Book 1 comes with the Interactive Practice Studio, an invaluable software suite accessible on desktop and mobile. Budding trumpeters can enjoy video lessons, accompaniments, flashcards, a tuner, and more. This customizable program helps students practice efficiently and develop proper technique.


Engaging Music and Exercises

Tradition of Excellence features original music and exercises students will love to play. Carefully paced lessons introduce new concepts and provide ample review to reinforce learning. Trumpeters build a solid foundation in breath control, fingering, articulation, and reading standard notation.


Tools for Differentiated Instruction

Pearson and Nowlin designed Tradition of Excellence to reach all learners. Embedded assessment tools help directors evaluate student progress and address individual needs. Challenging exercises extend advanced students while simpler arrangements support beginners. Directors can easily adapt lessons to their program's level.


A Trusted Curriculum for Budding Musicians

For over 30 years, the Tradition of Excellence series has helped students achieve their potential. This acclaimed method is used by music educators worldwide to build essential skills. Begin your musical journey on the right note with the Tradition of Excellence Book 1 for Trumpet.


Features
Three unique starting systems
Differentiated instruction and learning allowing you to customize your teaching
Pedagogically sound two-page lessons
Sounds-before-symbol rhythm introduction
Scales, technical studies, chop builders, warm-ups, rhythm studies, and sight-reading
Solos, duets, rounds, band pieces, and ensembles, including three built-in concert programs
Comprehensive Standards-based curriculum
Color coding connects new concepts with the music
Rhythm introductions adaptable to any counting system
Nine-page Oboe starting system
Expanded Horn book with F and B fingerings
All-in-one Percussion book
Repertoire from across time and around the world
Built-in written and performance assessment
Theory, composition, ear training, improvisation, orchestration, conducting, and history in every student book
Historical and interdisciplinary worksheets and teaching guides
Ready-to-use lesson plans
Multiple-option ensemble scoring
Comprehensive, easy-to-use Conductor Score
Score Companion: Teaching Band with Excellence: a Comprehensive Curricular, Pedagogical, and Administrative Resource-an indispensable aid to the teacher.
Revolutionary Interactive Practice Studios and Interactive Teacher Studio that offer intuitive virtual student and teacher environments
State-of-the-art accompaniment recordings
Instrument-specific DVDs containing video lessons, accompaniments, and importable audio files