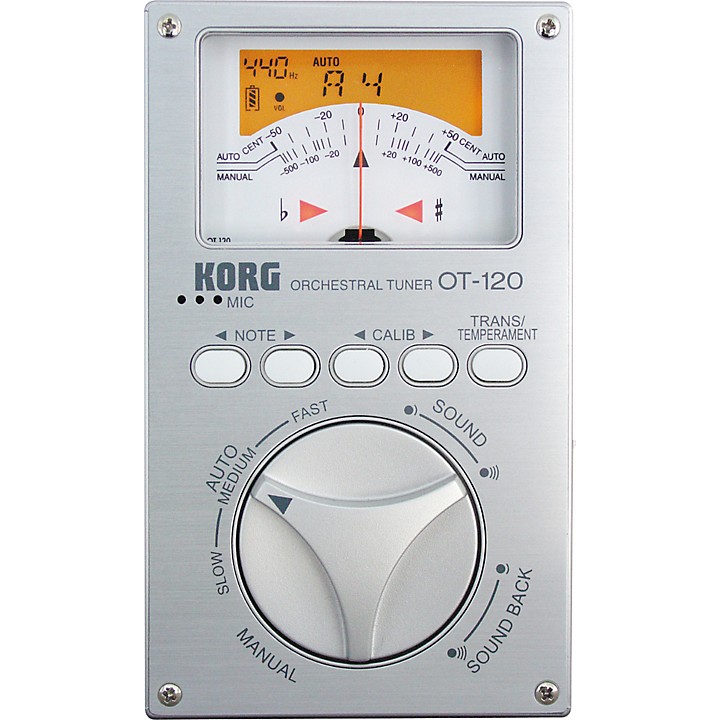 A robust tuner that can tame any instrument in the orchestral pit.

The OT-120 Chromatic Orchestral Tuner is designed to handle the full range of orchestral instruments - including piano, harp, xylophone, tuned percussion, strings, woodwinds and horns.

Full 8 octave (A0 - C8) detection range can tune in notes from the lowest string bass to the highest piccolo trumpet. Tuning accuracy within +/- 1 cent. A flexible calibration range from 349Hz to 499Hz (based on standard A = 440). VU-style meter with slow, medium and fast needle movement handles tuning for instruments with different attacks. Play back reference tones from over five octaves - for tuning or practicing pitch correction with vocals or wind instruments.
A larger and louder speaker means you don't have to compete to hear Sound Out and Sound Back modes.

Vertical-design and superior visibility

The OT-120 chromatic tuner is intended for orchestral instruments, packing precise performance and sophisticated functionality in a vertical design that's easy to hold and operate. It features a dual-display, an easy-to-see needle-type indicator and a backlit LCD screen that shows the battery life, sound output level, calibration, key and note name. Additional design features include a large dial that makes it easy to select the desired mode, soft-touch buttons and a rear-mounted stand that lets the unit stand by itself. A sophisticated silver aluminum panel contributes to its sleek, new look.

Accurately tune orchestral instruments over a wide range

Since we developed the world's first meter-type tuner in 1975, the accuracy of Korg tuners has made them the choice of artists in all styles of music. With its wide tuning range extending from A0 to C8, the OT-120 lets you quickly tune any type of band instrument including, orchestra, wind, string, brass or piano. The OT-120 also provides a wide range of calibration to support concert pitches in a range of A440=349-499 Hz (1 Hz steps).

Smooth and precise tuning you expect from a needle-type meter

The OT-120 uses a high-precision needle-type meter to accurately indicate any pitch discrepancy. The speed at which the needle responds to the input can be changed over a range of three steps; you can choose fast, medium or slow to match your tuning preference.

You can also choose from two tuning modes; Auto mode, which automatically detects the pitch of a single note you play on your instrument, or Manual mode, which lets you specify the desired note name. In Manual mode the needle movement is shown in a range of ±50 cents, letting you view the tuning discrepancy over a wide range. In addition to the excellent visibility unique to a needle-type meter, the LEDs located below the meter also indicate pitch deviation or a perfect match, making precise tuning easy even in dim locations.

Sound Back mode provides a reference tone that's ideal for tuning string or wind instruments

The OT-120 produces a reference tone in a five-octave range extending from C2 (65.41 Hz) to C7 (2093 Hz). You can switch the output level in two stages. The large speaker allows for more volume while not being obstructed even when using the stand, ensuring that the reference tone is clearly audible.

The OT-120 also provides Korg's proprietary Sound Back mode. This mode lets you connect an optional CM-100 contact mic to the input jack, and automatically make the OT-120's speaker produce a reference tone for the note that is closest to the input pitch you play on your instrument. The meter will also indicate the input pitch, letting you tune using your eyes as well as your ears for greater accuracy - and also providing a great way to train your sense of pitch.

Support for transposing instruments and historical temperaments

For conveniently tuning any wind instrument, twelve types of transposing keys are provided including both sharps and flats. The Multi Temperament function provides eight presets that cover the most popular historical temperaments often used with period instruments. These are also ideal for checking unique temperaments used in classical music.

Long battery life

The OT-120 is designed for an extended battery life of approximately 100 hours when running on two AAA batteries. It can also be used with an AC adaptor (sold separately).

Soft case included

A durable, suede-tone soft case is included.

Korg tuners and metronomes purchased from a Korg USA authorized dealer now have a three year warranty.

Features
8 temperaments for classical and ethnic instruments:
Pythagorean
Mean Tone Eb
Mean Tone D#
Werckmeister (III)
Kimberger III
Kellner
Vallotti
Young
Auto tuning mode shows how close the note you're playing is to being in tune. Manual tuning mode lets you select a specific note.
Vertical design - easy to hold, provides better viewing angles while taking up less space.
Sleek and durable aluminum panel - holds up to being taken in and out of instrument case and bag for years and years.
Rugged select wheel - provides positive assurance of the selection your making.
Tilt back stand - ideally suited for playing while standing (especially useful for wind or brass players).
Durable soft case with belt clip - no room on the music stand? - No problem.
Input and output jacks on opposite sides - for better balance on desktop, amp, instrument case or music stand.
100 hour battery life.