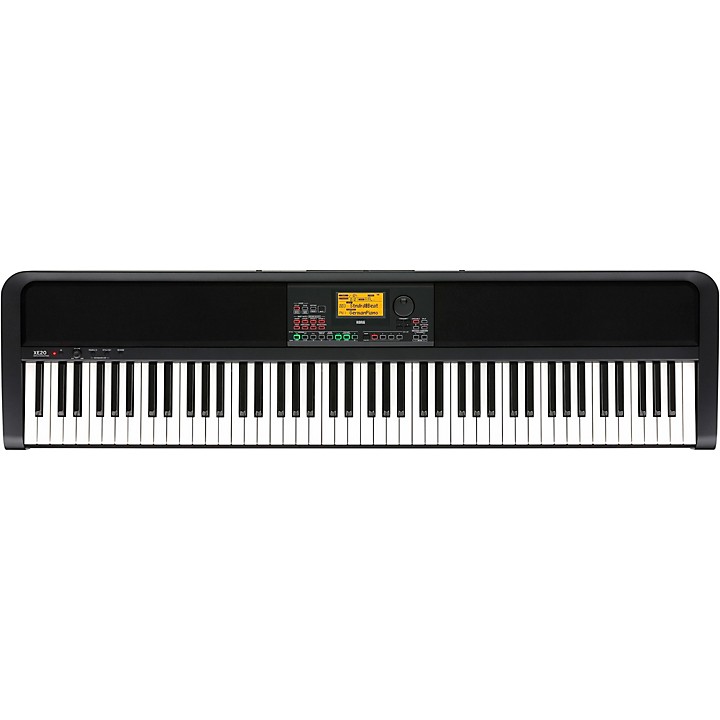 A digital piano with automatic accompaniment offering a full concert performance experience at home.
The KORG XE20 ensemble digital piano features an 88-note natural-touch keyboard and contains two full concert grand pianos. It also includes automatic accompaniment so users can go from practicing their favorite songs to truly performing them at the touch of a button. A complete array of auto accompaniment Styles can be accessed with your left hand, giving you the backing of a full band that you control completely. Play chords and XE20 will follow your changes in any Style you select. Change variations with a single touch. Add fills wherever you want. Add a melody with your right hand. It's a completely live and in-the-moment way of performing.




Two distinct concert grand piano sounds
XE20's German Piano is sourced from one of the most famous piano makers in the world, beloved by numerous pianists for its versatile, expressive power. It is distinctive for its bold tonality, brilliant high register and nuanced low range. The Italian Piano is also famous worldwide for its rich resonances and sensitivity to players' touch. These two sounds will give you a nuanced choice to help you get the most out of your playing experience.




Perform with an extensive variety of sounds
In addition to its stunning pianos, the XE20 provides a versatile collection of more than 700 expressive and authentic sounds. Onboard sounds include electric pianos, organs, synth pads, brass, strings, drum kits and more. All sampled sounds come from actual acoustic and digital instruments. Each of these realistic sounds can be played live or used as part of XE20's automatic accompaniments.




Automatic accompaniments take your performances further
XE20 comes equipped with an automatic accompaniment function called "Styles," which lets you automatically produce a full backing band simply by playing one finger or a chord in the left hand. This accompaniment will change according to the keyboard location or chord that you play, making it easy to create simple improvisations just by using your right hand to play a melody along with the accompaniment.

More than 280 different styles are provided for musical genres from around the world. Each style includes four variations ranging from simple to complex. Plus, an intro and ending are included for the beginning and end of the song. You can use these buttons to switch between these variations in time with the rhythm to add variety to your performances.




Perform your favorite songs with the XE20
Once you're comfortable playing a song, you can record your performance on the XE20 and save it for later. In addition to your own songs, you can use the Song Mode to play back onboard demo songs, MP3 or WAV audio data, or S Standard MIDI Files while you perform along with the playback. Any commercially available USB flash drive will be compatible.




Slim design that fits in anywhere
The XE20 is just 33.6 cm (13.23") deep and weighs only 11.4 kg (*not including the music rest and the separately sold stand). Its versatile functions are located on a convenient front panel. This gives it the same compact style as a typical digital piano with additional accompaniment and customization. The slim and lightweight body goes great in any room with its dedicated stand (*separately sold STB1). The XE20 is also very portable and works well placed on a table, giving you more options.




Powered speakers for powerful playback
KORG XE-20's speakers have been redesigned to provide plenty of power and clarity. This new playback system also improves the overall balance. So, even when automatic accompaniment is enabled, the low frequencies of the drums and bass will be present while allowing the piano to shine through.




A keyboard with the touch of an acoustic piano
The XE20 features a graded weighted hammer action keyboard to provide a true acoustic piano feel. Lower keys feel heavier and get lighter as you play upward. The keyboard is finely balanced, providing a natural, effortless playing experience.




Huge bundle of convenient software for practicing and creativity
The XE20 is bundled with software, including Skoove's award-winning piano teaching software to help you improve your playing. It also includes KORG's Module app, which provides access to even more sounds and KORG's Gadget 2 Le DAW music production app.

Specifications
Keyboard: NH (Natural Weighted Hammer Action) Keyboard, 88 key (A0–C8)
Touch Control: Four types, Soft (light), medium (standard), hard (heavier), fixed
Pitch: Transpose, Fine tuning
Sound Generation: Stereo PCM
Maximum Polyphony: 184 voices. German piano and Italian piano: total maximum 120 voices Other sounds: total maximum 64 voices
Sound: Over 705 sounds, 41 drum kits (including GM compatible sound set)
EFFECTS
Accompaniment part: 2 stereo digital multi-effects
Keyboard part: 2 stereo digital multi-effects
Style: 280 presets
2 intro, 4 variations, 2 Fills, 1 count in/break, 2 endings, synchro start/stop, tap tempo
Music Styles: Over 64 styles
Audio Player: MP3, WAV (44.1kHz, 16bit)
SEQUENCER
Record: Real-time recording (Style mode), maximum of 999 songs (approx. 100,000 notes), 12 tracks (4 keyboard parts + 8 auto accompaniment parts), original format (can convert to SMF0)
Playback: Supports song play (playing on the keyboard during song playback), SMF (Standard MIDI File) format 0 or 1
Setlists: 10 banks x 4
Metronome: Tempo, beat, volume
Tempo: 30–240
Key Transpose: C (-12) to C (0) to C (+12)
Tuning: 427.5–452.9 Hz
INPUTS/OUTPUTS
Foot controller jack: 6.3 mm (1/4") phone jack
Audio in jack: 3.5 (1/8") mm stereo mini-phone jack
Output L/MONO, R jack: s6.3 mm (1/4") phone jack (unbalanced)
Headphones jack: 3.5 mm (1/8") stereo mini-phone jack
USB A port: TO DEVICE port for connecting, USB flash memory and controllers
USB B portTO HOST port for connecting personal computers
Pedal Jack: Damper pedal (included), PU-2 pedal unit (sold separately)
SPEAKER SYSTEM
Amplification: 10 W x 2
Speakers: 120 mm (4.72") double-cone speakers x 2 (bass reflex box-type)
Speaker EQ: 8 types
MIDI: USB MIDI
Display: Custom LCD with backlighting
Power supply: AC adapter (included)
DIMENSIONS (W x D x H):
Not including sheet music stand: 1,312 x 336 x 118 mm/51.65" x 13.23" x 4.65"
Height with sheet music stand attached: 1,312 x 336 x 751 mm/51.65" x 13.23" x 29.57"
Weight: 11.4 kg/25.13 lbs.
Included items: AC adapter, sheet music stand, damper pedal
* 1: The half pedaling and sostenuto only support German piano and Italian piano sounds.
* 2: The half pedaling only support German piano and Italian piano sounds.