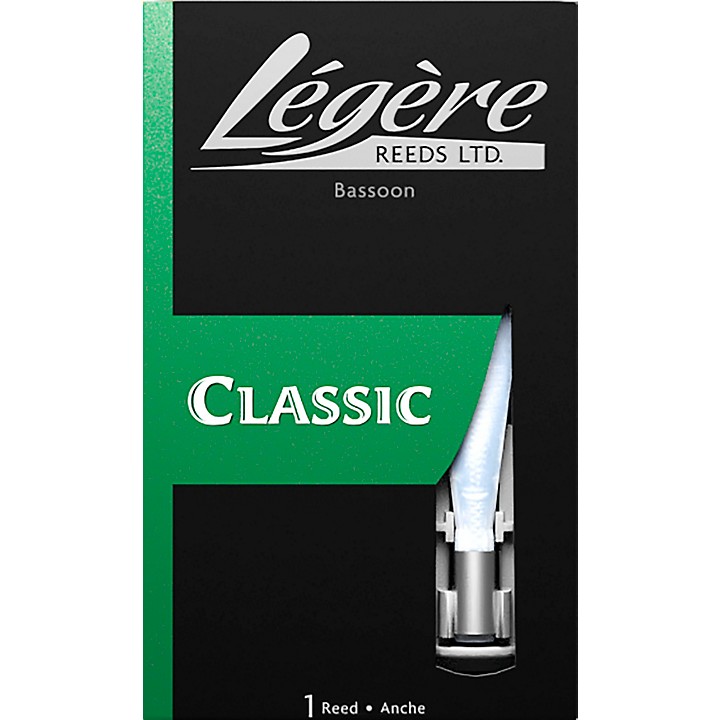 A revolution in reed technology delivering instant playability.
The Bassoon Synthetic Reed from Légère is a breakthrough for bassoonists, providing an instant response and robust projection from the first note. Made from specially prepared synthetic material, this reed eliminates the need to moisten before playing so you can focus on your performance. Boasting a clean, focused sound across all registers, the Bassoon Synthetic Reed is available in multiple strengths to suit various playing styles.


Precision-Cut for Instant Playability
Légère bassoon reeds are cut from their own unique polymer on 3-axis, computer-controlled precision cutting machines, allowing for extreme precision and tight quality control in the manufacturing process. The reeds are cut in halves using customized profiles based on a mathematical model, then bonded together to create a perfectly balanced reed with just the right combination of tip thickness, heart and flexibility for instant response and projection.


No Moistening Required
The Bassoon Synthetic Reed is made from FDA-approved polypropylene, a material that never needs to be moistened. This allows you to focus on your playing rather than reed preparation. The reed responds instantly from the box so you can begin performing right away without waiting for the reed to soak.


Beautiful Tone Across All Registers
The combination of precision-cutting and specialized synthetic material gives the Bassoon Synthetic Reed a clean, focused sound across all registers of the instrument. The reed allows you to smoothly transition between low and high ranges, projecting clearly and evenly throughout.


Multiple Strengths for Various Playing Styles
Légère offers their bassoon reeds in multiple strengths, including Medium and Medium-Hard. This allows you to choose a reed perfectly suited to your instrument set-up and playing style. Whether you prefer a darker, richer tone or a brighter, more articulated sound, there is a Bassoon Synthetic Reed for you.

Order the Bassoon Synthetic Reed today.