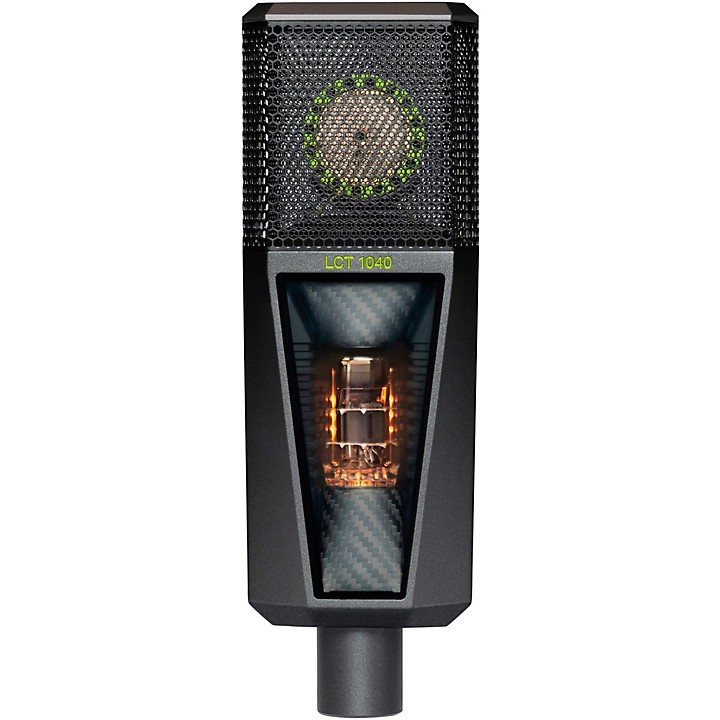 Four all-analog tube characteristics and a crystal-clear FET circuit.
The LCT 1040 Tube/FET condenser microphone system from Lewitt Audio Microphones offers four all-analog tube characteristics and a crystal-clear FET circuit to create the ideal sound. You can dial in the FET circuit via the Circuit control whenever you're looking for that extra punch or precision for your voice or instrument.

Set the directivity with the seamless polar pattern control of the LCT 1040, giving you exactly what you were looking for. Additionally, you can also freely define the front of the mic depending on your recording scenario using the Default/Reverse flip switch. To prepare you for all possible scenarios, the LCT 1040 features two XLR outputs with Neutrik connectors.
Tweak All Settings From Your Sweet Spot via the Remote Control
Set up the LCT 1040 in the recording room where the artist performs. Detach the remote control from the PSU and connect them via your standard 3-pin XLR cable. Now you can finetune your sound from your sweetspot via the remote control, ensuring a smooth-running session.
Dual-layer Magnetic Pop Filter
The high-performance magnetic pop filter of the LCT 1040 protects your capsule from unwanted plosives and moisture. Its double-layer design perfectly integrates with the shock mount and ensures clean recordings with any vocalist or genre.
Specifications
Type: Condenser, externally polarized
Acoustical operating principle: Pressure gradient transducer
Transducer Ø: 1"
Polar patterns: Seamless blend, Omni, wide cardioid, cardioid, supercardioid, figure-8
Frequency range: 20–20,000Hz
Sensitivity: 17.2mV/Pa, –35.3dBV/Pa (cardioid)
Self-noise: 10dB (A) FET, 13dB(A) tube (cardioid)
Max SPL at 0.5% THD: 137dBSPL (FET), 0dB attenuation
Signal/noise ratio: 84dB(A) FET, 81dB(A) tube
Dynamic range: 127dB(A) FET
Low-cut filter: lin 40Hz (12dB/oct), 80Hz (12dB/oct), 120Hz (6dB/oct)
Pre-attenuation: 0dB, –6dB, –12dB, –24dB
Internal impedance: 83.8 ohms
PSU supply voltage: 230V, 50Hz; 110V, 60Hz
Current consumption: 230V, 170mA, 110V–240mA
Connector PSU and remote: Gold-plated 3-pin XLR by Neutrik
Connector: 10-pin audio cable by Hirose Electric
Microphone enclosure: Zinc die cast
Microphone dimensions: 7.7" x 2.6" x 1.8"
Microphone net weight: 23 oz.
PSU dimensions: 9.4" x 6.7" x 1.9"
PSU weight: 68 oz.
Remote dimensions: 9.4" x 6.4" x 2"
Remote weight: 69 oz.
Features
Premium tube and FET microphone in one
Gold-sputtered 1" true condenser capsule
Four all-analog tube characteristics: Clear, Warm, Dark and Saturated
Blend tube and FET circuit at any ratio
Remote control to adjust all settings from your sweet spot
Seamless polar pattern control, low-cut filter, pre-attenuation
E88CC/6DJ8 tube from JJ Electronics
Box contents
Tube microphone
Power supply
Remote control
Dual-layer magnetic pop screen
Shockmount
Microphone mount
11-pin cable
Mil-spec transport case