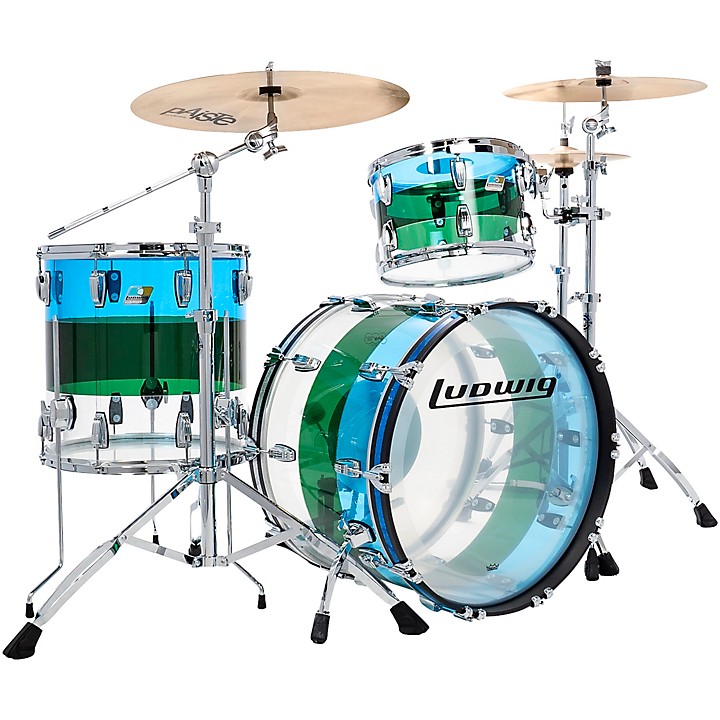 Celebrate 50 years of innovation.
The Ludwig Vistalite 50th Anniversary Fab 3-piece shell pack is a celebration of a classic, featuring a 22"x14" bass drum, 13"x9" tom and 16"x16" floor tom. As 1972 signaled the rise of a new era of music and fashion, Ludwig released the Vistalite series to challenged the idea of what drums could be. It had sound with a presence unmatched by traditionally built drums and a look that would command gem-like admiration. Ludwug had ear to the ground and its finger on the pulse to compliment this era of galactic glamour.

Ludwig would take the craze of acrylic drums to new heights when it became the first to introduce pattern and multi-color options as part of its finish assortment in 1975. From the biggest names in rock, pop, disco and funk to some of film and TV's biggest hits, Vistalite drums took the spotlight capturing a sort of individualist spirit that not only made the drummer visible, but memorable, as well. Its long-celebrated impact has made it the drummer's clear choice for over a generation.

The celebration of Vistalite's 50th anniversary brings back collector favorites as well as alluring one-of-a-kind varieties. Along with the expanded color options, Ludwig is introducing a limited production of five new pattern options that play off familiar rarities with a new twist.
Specifications
Configuration
Bass drum: 22"x14"
Tom: 13"x9"
Floor tom: 16"x16"
Total pieces: 3
ShellsHardware
Mounts: Vibra-Band with 9.5 mm brackets
Floor tom legs: 9.5 mm
Bass drum spurs: Curved
Other
Heads: Silver Dot batter heads
Features
3-piece shell pack including 22"x14" bass drum, 13"x9" tom and 16"x16" floor tom
Blue/olive badges
Silver Dot batter heads
Vibra-Band mounts with Ludwig's classic 9.5 mm bracket
Classic 9.5 mm floor tom legs
Curved bass drum spurs