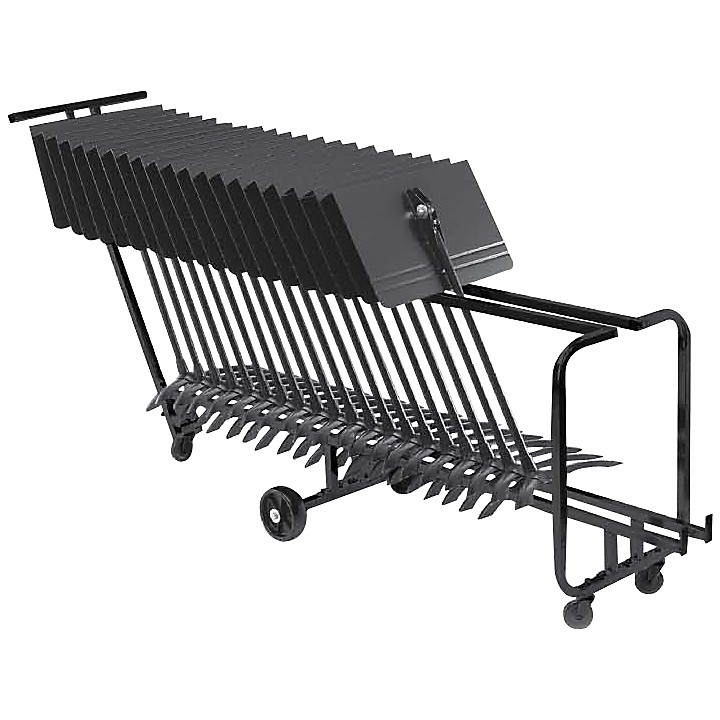 A rugged storage solution built to last.
The Manhasset 1910 Music Stand Cart is the ideal solution for transporting and organizing up to 25 music stands. Constructed from welded steel with a durable powder coat finish, this cart is built to handle the demands of frequent use and travel. Smooth-rolling wheels and a pivoting center axle provide effortless maneuverability over a range of surfaces.
Heavy-Duty Steel Construction Ensures Maximum Durability
The Manhasset 1910 Music Stand Cart features a sturdy welded steel frame and base with a chip-resistant powder coat finish that protects against scratches, dings and rust. This rugged, all-steel construction can withstand the weight of 25 fully loaded music stands and the rigors of frequent transport and use. You can rely on this cart to provide stable, long-lasting support for your music stands for years to come.


Smooth-Rolling Wheels Make Maneuvering a Breeze
Four roller bearing wheels and a pivoting center axle allow you to smoothly and easily maneuver the Manhasset 1910 Music Stand Cart over a range of flooring surfaces. The wheels roll effortlessly for efficient transport between practice rooms, classrooms, performance spaces and storage areas. The pivoting axle provides enhanced stability and control around corners and in tight spaces.


Spacious Design Accommodates 25 Music Stands
With a generous 92 by 22" footprint, the Manhasset 1910 Music Stand Cart provides ample storage space for up to 25 fully assembled music stands. The open design makes it easy to load and unload stands quickly. There's no need to disassemble your stands for storage or transport – just place them on the cart, secure them with the included safety straps and you're ready to go.


Premium 10-Year Warranty for Peace of Mind
Manhasset stands behind the quality and workmanship of the 1910 Music Stand Cart with a 10-year warranty. Should you experience any issues with materials or construction within that time period, Manhasset will repair or replace the cart at no charge. You can purchase with confidence knowing this cart is built to provide many years of reliable service.

Order the Manhasset 1910 Music Stand Cart today.
Features
Made in the USA
Lifetime warranty