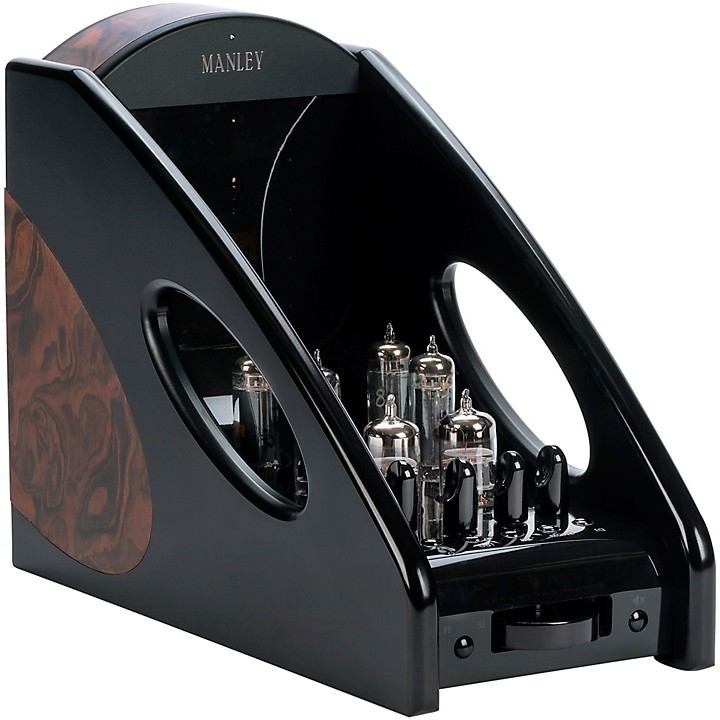 High-performance headphone amp with stylish design and stunning sound.
Brimming with functionality, the Absolute headphone amplifier from Manley Labs is as musically enthralling as it is handsome. There are fifteen independent controls available, each of which was exhaustively developed for convenient adjustability and aural variety. Two selectable stereo RCA jack pairs receive the input signals and are each Teflon insulated and gold-plated. The volume is controlled by the front thumb wheel and also by the included Radio Frequency remote control, both of which operate a precision stepped relay ladder matrix attenuator in half dB steps. The RF remote can be operated anywhere in the home, even through walls or cabinetry, which is especially useful when using the unit as a stand-alone preamplifier. Next to the front volume control wheel, you'll find the Mute switch to instantly kill the signal. Spinning the volume wheel all the way to minimum also mutes the signal. Plus, there's a user adjustable Headphone Overload Protection System which declares maximum output level to protect precious headphones and your ears.

Additionally, with a push of a button, these transformers cycle through three ranges of output loads accommodating headphones from 12 to 600 Ohms or greater. Choose between three sets of outputs: the expected 1/4" TRS headphone jack, a 4-pin XLR balanced stereo output for high-end balanced headphones, and a set of stereo RCA outputs to use this component as a line-level preamplifier in an existing hifi system. The Bypass Thru Mode sends RCA Input 1 directly to the RCA outputs, when in STANDBY mode. This allows main audio system sources to drive either playback system without having to change upstream cabling.
Specifications
Vacuum Tubes: 2 x 12AX7 (ECC83), 4 x 6AQ5A (EL90)
Inputs: 2 x RCA (Input 1 and Preamp Output = Pass-Thru when amplifier is in Standby or Off)
Input Impedance: 50 kOhms (Pass-Thru= 300 kOhms)
Maximum Input Level: 7.7 VAC RMS (+20 dBu)
Output Impedance (Switchable): Low 12-50 Ohm, Mid 50-200 Ohm, High 200-600 Ohms
Maximum Output Power: 1W into 12 Ohms BW 22Hz-22kHz
Features
Supplied with Remora RF remote control
Soft Start, 30 second mute-controlled power-up sequence
Operating Mains Voltage: 90-250 VAC, 50-60Hz, universal works worldwide
Dimensions: 11.5" x 5.5" x 8.2" (LxWxH)
Weight: 12 lb.
Power consumption STANDBY mode = 0.5W, Max Power = 80W
Heat Rise above ambient temperature at rear panel: 44º F
Heat Rise above ambient temperature at side panels: 26º F