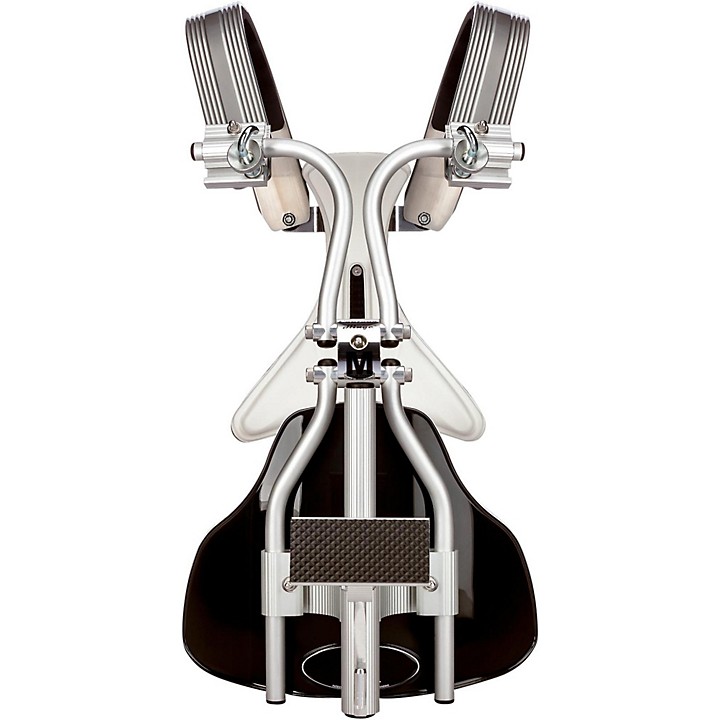 A marching percussion bass drum carrier with revolutionary back support technology.
Mapex Contour Hinge Monoposto Bass Drum Carrier by Randall May is an advanced marching snare carrier that promotes correct spinal posture. Features include:

Articulating Back Support
The revolutionary ABS is an ergonomic cornerstone of the posto carrier design, promoting correct spinal posture, the ABS helps to correctly distribute weight and energy ensuring both comfort and safety.

No j-rods. Period.
Complete freedom of movement. the monoposto/biposto bridge transfers all the sheer and torque load only to the tubes and away from the abdomen plate, improving rigidity and stability to the instrument.

6-Point Comfort Zone
May patented technologies combine in several ways to provide superior ergonomic fit.

Invertible Support Post
Complementing any size bass drum, this patented post will conform to any radius. support pad allows instantaneous adjustment and positioning without any assistance.

Advanced Transport
All May Monoposto & Biposto carriers can fold to about half their original size for easy transportation.

Polycarbonate Abdomen Plate
This ultralight material is incredibly strong and equally durable while the design is virtually free floating; it bears no weight from the drum.
Features
Articulating back support
No j-rods
6-point comfort zone
Invertible support post
Advanced transport
Polycarbonate abdomen plate