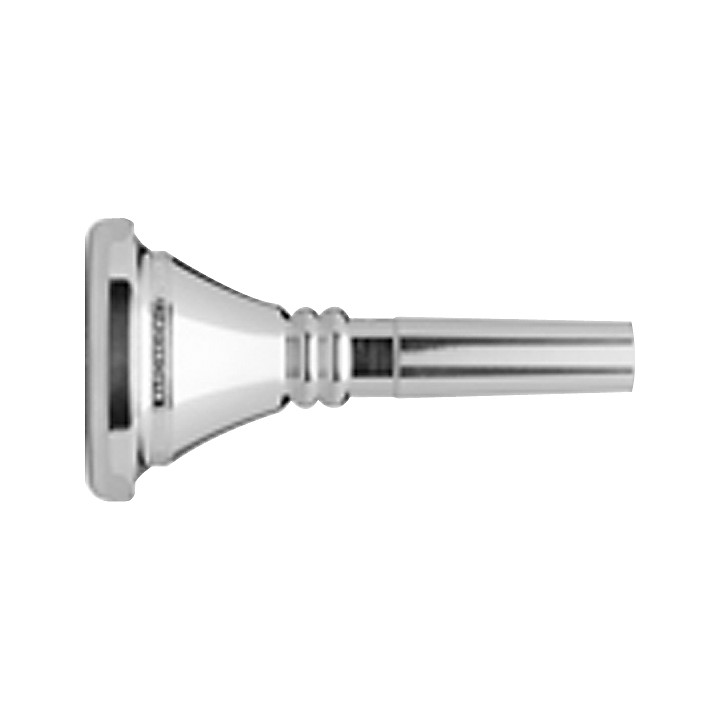 Playing efficiency without compromise.
Designed for the player whose needs are not met elsewhere, the Standard Series Large Shank Trombone Mouthpiece in Silver affords enhanced projection, even timbre from ppp to fff, and the same great intonation throughout all registers that Marcinkiewicz mouthpieces are famous for. They are optimized to give the player the best efficiency possible without compromise.

The Standard Series mouthpieces are arranged in a logical ascending order from deep to shallow. This arrangement permits a player to select a mouthpiece by precise increments of depth to find the correct cup volume for their playing situation. As rim size does not directly correspond to cup depth, please observe inside cup diameter for finding optimal response. The comparisons are given for casual references only and are not exact.

Specifications
Series: Standard Large Shank Bass Trombone
Model number: 1
Outside cup diameter: 1.540 in. (39.12 mm)
Inside cup diameter: 1.110 in. (28.19 mm)
Cup depth: 1.238 in. (31.45 mm)
Drill venturi: 0.281 in. (7.14 mm)
Length: 3.170 in. 80.52 mm
Comparison only: 1-1/2 G oversized
Series: Standard Large Shank Bass Trombone
Model number: 1 ½ G
Outside cup diameter: 1.540 in. (39.12 mm)
Inside cup diameter: 1.096 in. (27.84 mm)
Cup depth: 1.203 in. (30.56 mm)
Drill venturi: 0.281 in. (7.14 mm)
Length: 3.170 in. 80.52 mm
Comparison only: Bach 1-1/2 G
Series: Standard Large Shank Bass Trombone
Model number: 3
Outside cup diameter: 1.540 in. (39.12 mm)
Inside cup diameter: 1.096 in. (27.84 mm)
Cup depth: 1.153 in. (29.29 mm)
Drill venturi: 0.281 in. (7.14 mm)
Length: 3.170 in. 80.52 mm
Comparison only: Bach 2
Series: Standard Large Shank Bass Trombone
Model number: 4
Outside cup diameter: 1.540 in. (39.12 mm)
Inside cup diameter: 1.026 in. (26.06 mm)
Cup depth: 1.120 in. (28.45 mm)
Drill venturi: 0.277 in. (7.04 mm)
Length: 3.170 in. 80.52 mm
Comparison only: Bach 4
Series: Standard Large Shank Bass Trombone
Model number: 5G
Outside cup diameter: 1.538 in. (39.07 mm)
Inside cup diameter: 1.006 in. (25.5 mm)
Cup depth: 0.100 in. (27.94 mm)
Drill venturi: 0.261 in. (6.63 mm)
Length: 3.170 in. 80.52 mm
Comparison only: Bach 5G
Series: Standard Large Shank Bass Trombone
Model number: 5GW
Outside cup diameter: 1.538 in. (39.07 mm)
Inside cup diameter: 1.006 in. (25.55 mm)
Cup depth: 1.100 in. (27.94 mm)
Drill venturi: 0.261 in. (6.63 mm)
Length: 3.170 in. 80.52 mm
Comparison only: Bach 6-1/2 AL
Series: Standard Large Shank Bass Trombone
Model number: 5J
Outside cup diameter: 1.538 in. (39.07 mm)
Inside cup diameter: 1.006 in. (25.55 mm)
Cup depth: 1.100 in. (27.94 mm)
Drill venturi: 0.277 in. (7.04 mm)
Length: 3.170 in. 80.52 mm
Comparison only: ***
Series: Standard Large Shank Bass Trombone
Model number: 8H / 6.5 AL
Outside cup diameter: 1.534 in. (39.24 mm)
Inside cup diameter: 1.026 in. (26.6 mm)
Cup depth: 0.147 in. (26.59 mm)
Drill venturi: 0.266 in. (6.76 mm)
Length: 3.170 in. 80.52 mm
Comparison only: Bach 6-1/2 AL
Features
Larger shank trombone mouthpiece
Silver-plated brass
Stable pitch center
Dark, rich tone
Handles wide dynamic range without buzzing